When to Use Aluminum Oxide Grit on Fiberglass Products
Aluminum oxide, or alumina (Al2O3), is an advanced ceramic material prized for its combination of affordability and exceptional mechanical performance. Nominal values place the strength of aluminum oxide particles on a range of 300 – 630 MPa, comparable to some high-strength steel grades, while the material boasts a Mohs' hardness rating of 9 – out of a total of 10. Despite these superb physical properties, alumina is an abundant long-lasting material, which drives down the price and makes it ideal for wear-related applications. So, where does aluminum oxide grit fit into the context of fiberglass products?
The Importance of Grip: Fiberglass Products Vs. Stainless Steel & Concrete
Fiberglass products serve numerous purposes in an increasingly diverse range of application areas. It is commonly associated with recreational water, industrial catwalks, pedestrian walkways, and other high traffic areas where consistent footfall represents an issue of wearing.
Wear and tear of grating or stairs is rarely a symptom of persistent traffic alone. It is typically compounded by weathering factors or corrosives in the working environment – even elements as benign as standing water can contribute to the degradation of structural units when combined with repetitive high footfall. By and large, fiberglass products can mitigate many of these issues due to the physicochemical integrity and superior inertness of the composite part.
Consider stainless steel: The corrosion-resistant patina of stainless alloys is extremely effective at resisting chemical attack or permeation by undesirable elements. Yet, that patina is vulnerable to abrading forces. Persistent foot traffic can pose a problem for stainless steel structures by degrading their anti-corrosive properties and causing a gradual loss of mechanical performance.
Likewise, with concrete, high volumes of foot traffic in wet or humid environments over long periods will smooth concrete and create a slippery surface. Each of these problems poses safety issues for the pedestrians or workers using these high volume thoroughfares daily.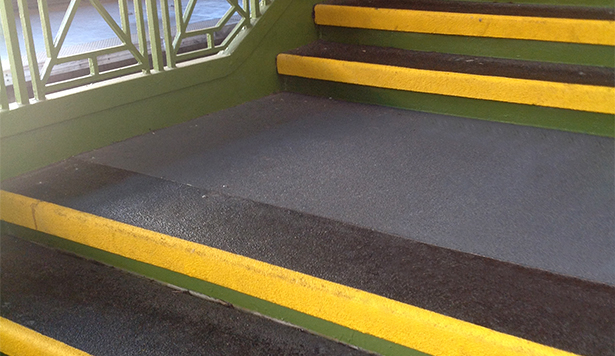 Fiberglass products can outperform both steel and concrete in terms of wear-resistance properties but creating a high-grit surface often remains key to ensuring long-lasting performance and safety standards in certain applications. Applying an aluminum oxide grit to the surface of fiberglass grating products and stair treads can significantly improve their durability while creating a skid- and slip-resistant surface. This success is attributed to the ready availability of alumina grit and its outstanding mechanical properties.
Case Studies: Fiberglass Grating and Stair Treads with Alumina Grit
Key application areas where aluminum oxide grit enhanced fiberglass products have proven successful are united by issues of high footfall and the presence of potentially corrosive elements. In the past, Strongwell has utilized DURATREADTM stair treads embedded with calcined alumina particles in Kentucky's Mammoth Cave National Park and Baltimore's busiest rail station to help combat the issues of persistent traffic in areas exposed to the elements. Our high-grip fiberglass products provided a virtually maintenance-free solution for wear-and-tear issues and health and safety concerns in busy thoroughfares.
If you would like to learn more about these applications, please read our application notes below:
Fiberglass Products from Strongwell
Strongwell is an industry leader in the pultrusion of fiberglass products that perform unique roles in a diverse range of application areas. If your application requires a high-grip solution, contact a member of the Strongwell sales team today to learn more about the benefits of aluminum oxide grit on pultruded fiberglass products.