Power Poles

Strongwell's SE28 fiberglass power transmission pole has a higher strength-to-weight ratio than steel, wood or concrete and weighs substantially less, i.e. approximately 30% the weight of wood, 60% of steel, and 15% or less of concrete.
Appearance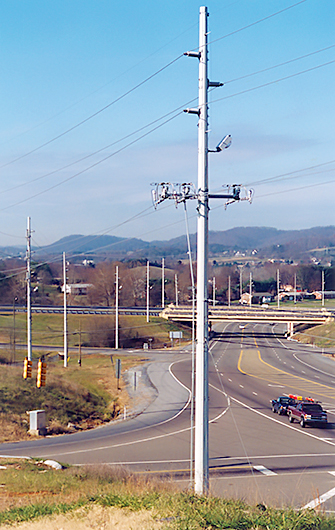 The SE28 pole is designed using various glass fiber reinforcements including a multi-directional glass fabric that provides strength along both the longitudinal and transverse axis.
An internal foam core combines with the high tensile strength of the composite to give the power poles excellent performance when subject to vertical and lateral loads. The pole was developed over a number of years with assistance from electric power utilities. SE28 poles are tapered and pass the required ASTM D1036 cantilever strength test.
SE28 power poles are aesthetically pleasing, corrosion resistant and do not rust or decay. The poles have a smooth exterior surface and can be supplied in a variety of colors. The poles are uniformly tapered and multi-sided.
Safety
Lightweight and inherently low in conductivity, SE28 power poles are safer than poles made of other materials. Linemen benefit from a lower risk of lifting-related injuries and from the pole's low electrical conductivity property value. Fiberglass power poles can also be more safely erected in the vicinity of energized lines and lifted between conductors on existing structures.
Durability
Composite poles are very durable under harsh handling conditions and can be handled according to the ASCE guidelines used for steel poles.
Strongwell poles are relatively maintenance free. The poles are resistant to corrosion, acids, water intrusion, fire, temperature changes, microorganisms, insects, and birds. Strongwell poles do not, therefore, require the inspection and treatment program that wood poles require.
Low Conductivity
Fiber reinforced polymer poles have low conductive properties and have been employed in "live-line" construction. The SE28 pole is grounded using the same practices as wood poles.
Repairs
Depending on the extent of damage, composite poles can be repaired in the field by personnel with the proper training and materials.
For frequently asked questions, please go to Strongwell's FAQ page for Power Poles.