Case Study: Advanced Reefer Trailer Design Uses Fiberglass Side Panel Posts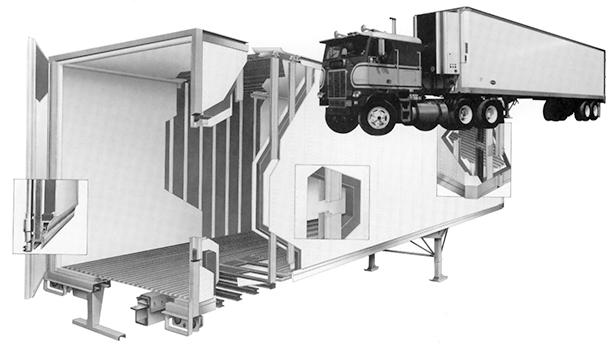 Strick refrigerated trailers are engineered to combine high performance with low maintenance costs through the use of structural components such as pultruded fiberglass sideposts manufactured by Strongwell. Used as a replacement for aluminum in this application, the fiberglass side panel posts are lightweight, have high impact resistance, low heat loss and increase cargo space in the trailer.
These posts are 50% glass by weight. Glass fibers run continuously from web to flange, resulting in superior strength. In the Strick reefer trailers, high strength fiberglass posts are placed on 24" centers with extra posts at points of highest stress throughout the wall construction to absorb and distribute load impact evenly.
The posts are a vital part of Strick's exclusive "Uni-Foam" insulation system. High density foam is sprayed into the wall of the reefer and when dry, covered with insulated liner panels that are fastened to the fiberglass sideposts. Though other materials in the wall will probably have to be replaced, the fiberglass panel posts will never have to be replaced during the life of the trailer because fiberglass is long lasting and corrosion resistant.
TECHNICAL DATA
Product: Reefer Side Panel Posts
Process: Pultrusion
Materials: Polyester resin reinforced with continuous strand mat and glass rovings
Size: 5.875" wide x 2" deep x 111-1/2" high (varies) (Modified beam configuration)
For: Strick Corporation
In addition, fiberglass is thermally nonconductive. The fiberglass posts, in combination with uniformity of the insulation in the Uni-Foam system, permit the reduction of trailer sidewall thickness to 2" while still meeting standard heat loss ratings. Thus, the Strick trailers have 70 cu. ft. more cargo space than conventionally built reefer trailers which have three inch walls.