PRODUCTS
Bridge Components

Pedestrian Bridges and Vehicular Bridge System Components
Strongwell is actively involved in the advancement of FRP technology for civil infrastructure applications. These efforts include the research and development of new FRP products as well as involvement with ASCE, AASHTO, ASTM, FHWA and NIST in the establishment of engineering and performance standards.
Emerging applications for Strongwell's pultruded FRP products include pedestrian bridges, AASHTO HS-25 bridge superstructures, decks and guard rails. The bridge industry's interest in FRP as a replacement for traditional steel and concrete materials is due to:
Inability of traditional materials to resist corrosion
Rising costs of traditional materials (steel, wood, concrete) and associated increasing installation labor costs
Less public inconvenience and improved construction worker safety due to shorter installation periods
Significantly lower long term maintenance and replacement costs
The useful life extension of existing bridge superstructures with lightweight FRP bridge decks
COMPOSOLITE®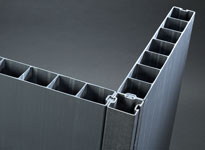 COMPOSOLITE® is a patented advanced composite building panel system suitable for major load bearing structural applications. The modular construction system consists of a small number of interlocking fiber reinforced polymer (FRP) structural components produced by the pultrusion process. The main building panel is 3" thick x 24" wide (80mm x 605mm) nominal size and features a cellular construction. Panels can be connected using the 3-way connectors, 45-degree connectors, toggles and/or hangers. This uniquely designed system of interlocking  components makes it possible to design fiberglass structures at significantly lower costs for a broad range of construction applications. COMPOSOLITE® structures can be designed in "kit form" and shipped flat to the job site.
System Design
COMPOSOLITE® is a system of five interlocking components manufactured of pultruded fiberglass reinforced polymer. The system combines manufacturing simplicity with an almost unlimited number of configurations. The COMPOSOLITE® panel features integrally molded longitudinal grooves into which a connector or toggle is inserted during assembly. 3-way and 45-degree connectors allow the system components to turn corners and facilitate the joining of walls or sides. Toggles lock panels and connectors together securely. For added flexibility, the system also includes a hanger and an end cap. For permanent structures, joints between panels and connectors are bonded during assembly. Adhesive is applied along the length of the panel and connector. The toggle, to which adhesive is not applied, is then inserted to mechanically secure the components and create even pressure along the length of the joint until the adhesive between the panel and connector cures.
EXTREN DWB®
Strongwell's EXTREN DWB® (Double Web Beam) was developed through a three-year cooperative program between Strongwell and the U.S. Department of Commerce's Advanced Technology Program (ATP). The goal of Strongwell's ATP project was to design, develop and produce an optimized fiber reinforced polymer (FRP) structural shape for use in heavy structures such as vehicular bridges and offshore drilling platforms. The program included the development of manufacturing processes and equipment to produce this product. The result of Strongwell's efforts is a double web beam with carbon fibers in the top and bottom flanges for increased stiffness. The carbon/glass "hybrid" (hybrid refers to the combination of carbon and glass reinforcements) beam has a greatly increased modulus of elasticity and the double web shape has significantly improved the lateral torsional stability of the beam. This increased stability is very significant and reduces the beam's need for lateral bracing. Strongwell presently produces two different sizes, an 8" x 6" EXTREN DWB® (8" DWB) and a 36" x 18" EXTREN DWB® (36" DWB). Both of these sizes have undergone extensive laboratory testing and have been proven through real-world applications.