Oil and Gas

Strongwell's structural composites have proven to be an effective long term solution for decades in both domestic and international Oil and Gas markets. To this day, the oil and gas industry continues to champion the weight savings, durability, and resistance to salt air and seawater benefits which fiberglass composites provide over steel. Strongwell's expansion in product and market diversification within the past sixty years has been driven by "quality above all" within the FRP global marketplace. It continues to develop products which strive to offer superior corrosion resistance, meets strenuous product safety guidelines and continued reduction in if/any maintenance requirements of its products.
Although metallic components are most economical with regards to material costs alone, they require heavy lifting equipment, added labor for cutting, welding, painting and edge-banding. Most Strongwell FRP "drop-in" installations are done with minimal alterations and using basic hand tools. Strongwell Oil and Gas products offer corrosion resistance, slip resistance, flame retardancy, non-conductivity, impact absorption, and little to no maintenance requirements.
Strongwell's FRP products offer lower maintenance requirements because FRP does not deteriorate in the presence of most corrosive saltwater, drilling fluids, acids, alkalis or other chemicals. This translates into longer service life and lower life cycle costs than ferrous metals and aluminum in the Oil and Gas applications below.
Applications
Production Platforms
Tension Leg Platforms
SPARs
MODUs
FRP Solutions for Oil and Gas
DURADEK® and DURAGRID® are ideal replacements for steel or aluminum gratings in corrosive environments or when frequent grating and walkways replacement costs are unacceptable.
Applications: walkways, general access areas, stair treads, mud tanks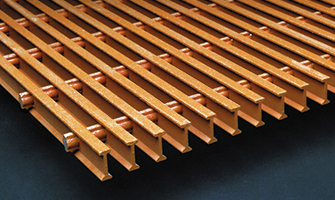 DURAGRID® Phenolic Grating is the first composite grating to receive U.S. Coast Guard approval. It is accepted for use in locations and applications as allowed in the ASTM F3059 Matrix guide for fiberglass grating meeting Structural Fire Integrity Level 2 (L2). The ASTM F3059 enhances and replaces the USCG PFM 2-98 matrix.
DURAGRID® Phenolic Grating, compared to typical polyester, vinyl ester and epoxy FRP products, offers major improvements in reduced smoke density, reduced smoke toxicity and structural fire integrity when exposed to fire. DURAGRID® Phenolic Grating complies with Annex 1 (Resolution MSC.307(88) , Part 2, 2.41 and 2.4.2 (smoke and toxicity testing) of the FTP Code (International Code for Application of Fire Test Procedures) - (MSC 88/26/ Add.2) issued by the International Maritime Organization.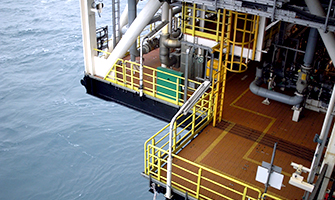 Areas where DURAGRID® Phenolic Grating can be used include:
Wave Zone Areas
Well Bays
Mud Pits
BOP Work Platforms
Well Head Platforms
Cranes
Wind Walls
Preload Tanks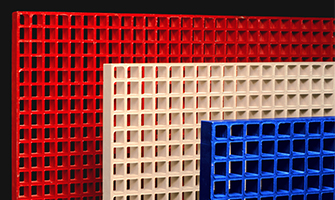 DURAGRATE® molded fiberglass grating's high resin content make it a great choice for low maintenance chemical resistant flooring.
Applications: walkways, stair treads, wave zone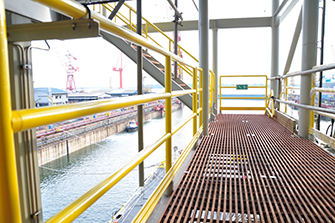 SAFRAIL™ is the most versatile and durable handrail system available because it is offered in round, square and channel top handrail profiles in polyester, vinyl ester or phenolic resin systems with various connections options and configurations.
Applications: walkways, stairs, platforms
Since the 1950s, this industry tried and true fiberglass ladder and cage system has outlasted steel and aluminum with little to no maintenance.
Applications: Wall Mount Ladders, Base/Floor Mount Ladders, Walk- throughs with Returns, Side Mount Cages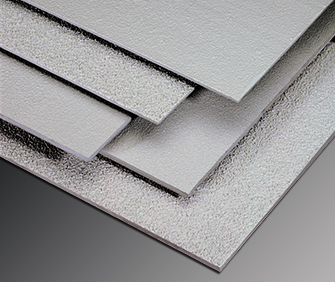 SAFPLATE® can be sold as a solid plate or bonded to DURADEK® or DURAGRID® pultruded grating. A fine grit plate is stocked in 4' x 8' panels with thickness in plate offerings in 1/8" and ¼". Optional plate thicknesses include 3/16", 3/8", ½", 5/8", ¾", and 1" sizes.
Applications: walkways, splash walls, decks, trench covers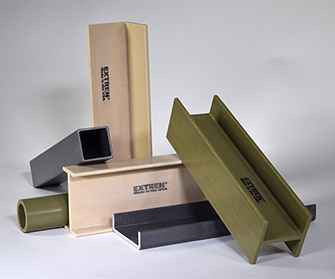 EXTREN® is registered with over 100 plus standard pultruded fiberglass structural shapes by Strongwell. It is lightweight, high strength, corrosion resistant, dimensionally stable and is low maintenance compared to traditional materials.
Applications: structures, support systems, platforms, stairways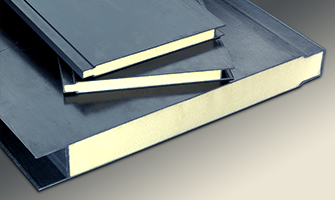 DURASHIELD® is a pultruded tongue and groove system panel pultruded over a foam core in either a flame retardant isophtalic polyester or vinyl ester resin.  It's available in 1" x 12" (R factor of 5) and 3" x 24" (R factor of 17) sizes.
Applications: Walkways, cladding, wind walls, antenna screening, insulated enclosures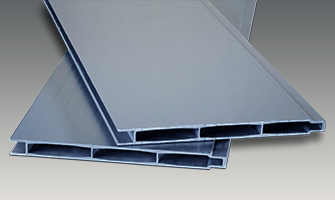 DURASHIELD HC® is a hollow core non-insulating cost-effective alternative to DURASHIELD®. DURASHIELD® and DURASHIELD HC® panels can be bonded together with standard adhesives and attached to structural shapes with bolts or screw fasteners.  These panels will not rot, rust or mildew in high moisture environments.
Applications: walkways, cladding, wind walls, antenna screening, non-insulated enclosures
Wave Zone Grating and Guardrail/Handrail
DURAGRATE
® molded grating or DURAGRID® HD (rectangular bar) pultruded grating paired with SAFRAIL™ guardrail/handrail can deliver an all-FRP system for these areas.
Pipe Sleeves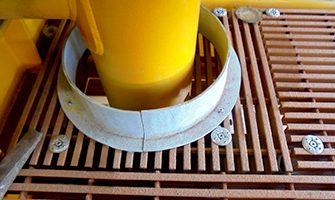 Pipe sleeves with all the benefits of FRP, are constructed of a durable hand laid fiberglass and polyester or vinyl ester resin in multiple diameters can be easily installed on site.