Building / Construction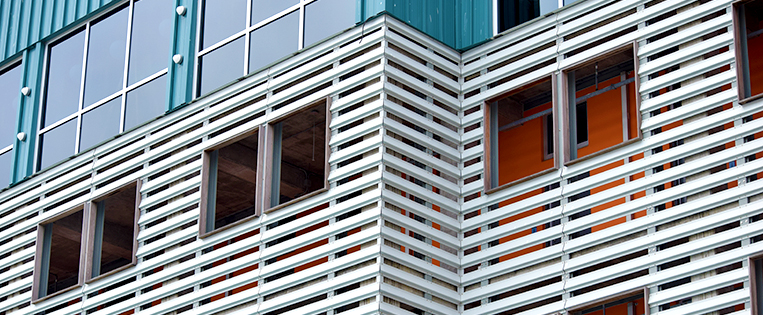 The features of Strongwell's structural fiberglass products offer significant benefits in many building and construction applications.
Decking Systems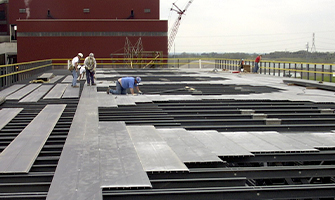 Strongwell's industrial fiberglass decking systems are attractive, low maintenance industrial decking systems that are excellent alternatives to traditional decking materials that rot and chip.  SAFPLANK® and SAFDECK® will not rot, rust or mildew, which makes those systems ideal for high-moisture environments, including saltwater environments. The fiberglass panels are designed to interlock for a continuous solid surface and provide an aesthetically pleasing appearance.
Structural Shapes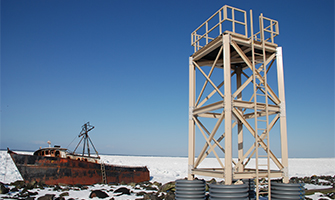 Wade Perrow Construction, LLC  recognized EXTREN® as a product solution for the Seal Observation Facilities Project.  Wade Perrow Construction  knew that EXTREN® pultruded fiberglass structural shapes offered significant structural advantages over wood and metal. Unlike timber, EXTREN® does not rot or decay and EXTREN® is not susceptible to insect attack. Strongwell's EXTREN® shapes are also stronger and more rigid than timber while always remaining corrosion free.
Click here to read the full case study.
Trash Gates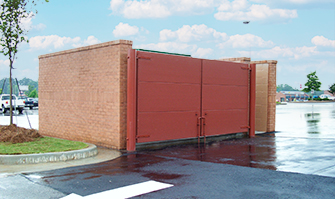 Durable, long-lasting fiberglass trash gates and enclosures are the superior choice for screening waste disposal and other unsightly areas. The lightweight gates and enclosures are designed to be installed quickly and easily without the need for special tools. The fiberglass materials will provide years of maintenance-free service, even in the harshest weather conditions, because fiberglass will not rust, rot, or corrode. Strongwell's gates and enclosures resist impacts and resulting dents that detract from appearance.
Foam Core Fiberglass Building Panels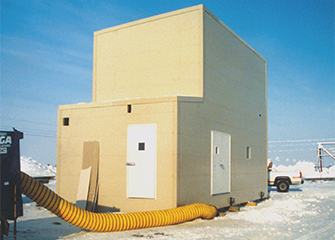 ARCO Alaska, Inc. used DURASHIELD®
panels for walls in its Alaskan North Slope. The 3" foam-core panels are lightweight and can easily tolerate a forty pound snow load and 100 MPH winds. The DURASHIELD® panels also provided an "R" value of R-21 due to the integrated tongue and groove panels.
Click here to read the full case study.
Fiberglass Building Panels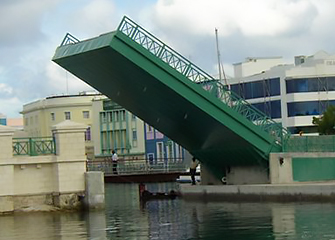 A composite bridge in Bridgetown, Barbados was constructed using the COMPOSOLITE® building panel system. The fiberglass structure was designed using COMPOSOLITE® FRP panels because the panels are lighter than steel or concrete and were easy to assemble.  In addition, FRP offers excellent corrosion resistance. low maintenance and high aesthetic appeal.
Click here to read the full case study.
Pultruded Fiberglass Grating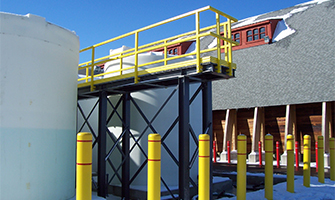 Strongwell's DURAGRID® I-6000 pultruded grating was used to build large platforms to gain access to road de-icing chemicals in large outdoor storage tanks at the Ohio Road Department in Franklin County, Ohio. The grating allows safe access to and from the tanks for filling and inspection. The non-corrosive and lightweight nature allowed the builders to assemble the components themselves without the need for heavy lifting equipment.
Click here to read the full case study.
Molded Fiberglass Grating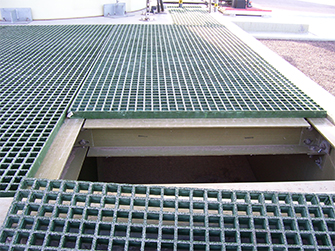 The city of Phoenix needed to install a walking surface at a lift station that houses a wet scrubber for foul air treatment. The station serves the Musical Instrument Museum and a senior living facility, both of which are state-of-the-art. Molded Fiber Glass and Jacobs Engineering both chose DURAGRATE® molded grating as the walking surface due to its high resin content (65%) which will provide extended maintenance free performance.
Click here to read the full case study.
Custom Products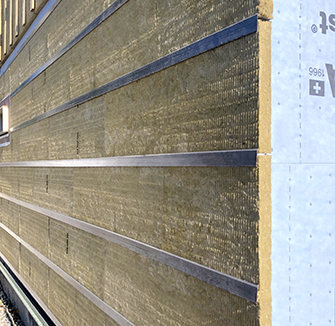 STRONGIRT® is the ideal continuous insulation (CI) cladding attachment support system. This all-FRP (fiberglass) pultruded composite uses a custom fire-retardant resin system and unique laminate design to offer superior pull out strength, excellent thermal efficiency, and the ability to work with any non-proprietary insulation (no routing or fabricating of rigid insulation is required). The product has been engineered for strength and stiffness to support cladding, insulation, and wind loads, while offering a simple, durable, cost effective solution for installers.
Click here to learn more about STRONGIRT®.
OR Click here to learn more about Custom Products.
Fabricating with Strongwell's Products
If you are looking to fabricate fiberglass structures with Strongwell products, please complete a fabrication worksheet.