Custom Pultrusions

What Are Custom Pultrusions?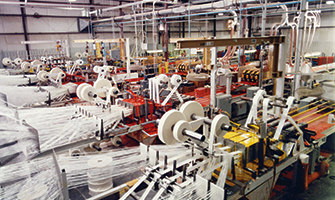 A custom pultrusion is a unique product manufactured to distinct customer specifications. With a choice of resin systems and reinforcing materials, they can be engineered to practically any constant cross-section. This composite design can be customized with excellent degrees of customer control.
Composite pultrusions engineered using resins as varied as polyesters, vinyl esters, epoxies, phenolics, urethanes, and blends, alongside reinforcements like fiberglass and carbon fiber, have been adopted at scale in a broad range of markets.
Which Markets Utilize Custom Pultrusions?
Architectural: Attractive and durable, Strongwell custom pultrusions outperform traditional materials in terms of long-lasting style and substance in architectural applications.
Construction: Custom pultrusions can enhance the inherent high-strength and non-corrosive properties of composites to meet and exceed customer specifications in the construction industry.
Cellular: Composites are virtually transparent to cellular emissions and electromagnetic frequencies, which makes custom pultrusions ideal for telecommunications and rooftop cellular screening.
Coastal / Marine: Impervious to rot with superb resistance to saltwater corrosion, polymer composites are rapidly replacing steel and timber in many marine and coastal applications.
Electric Utility: Custom pultrusions serve the electric utility market on several fronts; providing savings on upfront investment and ongoing operating costs alongside a raft of safety benefits.
Hotel / Motel: Custom pultrusions retain their installation properties whatever the weather, providing consistent and cost-efficient aesthetics for hotels and motels in all environments across the U.S.
Industrial: Strongwell specializes in providing heavy-duty solutions to industrial challenges, with unique considerations for severe processing conditions in industries as demanding as the pulp and paper sector.
Infrastructure: From bridges to flood control, custom pultrusions can assist in laying the groundwork for a range of infrastructural projects.
Mining: Composites can provide longer-lasting performance than conventional materials in mining and exploration facilities, helping mining companies to ethically improve profit margins.
Oil and Gas: Championing weight savings and corrosion resistance, custom pultrusion polymer composites have found a natural home in the oil and gas sector, meeting various specifications for offshore application.
Parks and Recreation: Polymer composites will not rot or corrode when exposed to pool chemicals like chlorine, making them ideal for waterpark and pool applications.
Security / Military: Custom pultrusions can be engineered with blast and ballistics resistance in mind, providing an outstanding measure of security in commercial, domestic, judicial, and military markets.
Transportation: Fiberglass was practically invented for the transportation sector, and it continues to serve engineers in automotive, aviation, shipping, and transit markets today.
Water / Wastewater: The inherent non-corrosiveness of polymer composites makes them ideal for use in water treatment applications.
What Information Do You Need for a Custom Pultrusion?
Custom pultrusions are designed to unique specifications. Designers and engineers require a wealth of information to guarantee that the end-product meets customer requirements. If you are interested in Strongwell custom pultrusions, we recommend you start with our custom pultrusion form. Or, contact us if you have any queries.