Fabricated Structures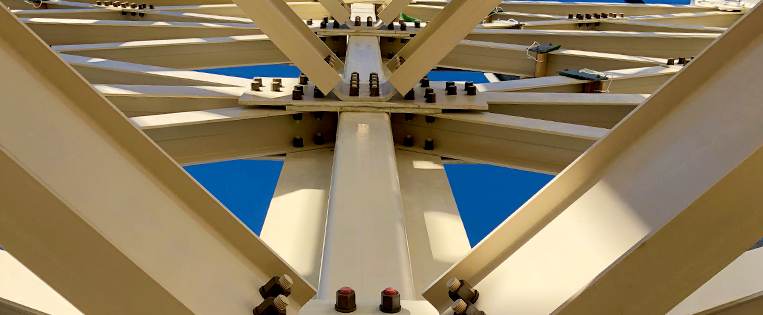 Strongwell has a substantial capability to add value to pultruded parts including the fabrication and shop assembly of parts, components, sub-assemblies and entire shop-built structures. The fabrication group is supported by a strong engineering team including registered professional structural engineers experienced in FRP design and AutoCAD detailers who translate requirements into shop drawings.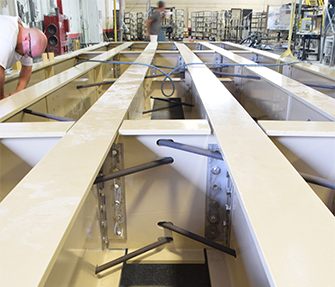 Strongwell fabricates fiberglass structures at both the Bristol and Chatfield locations. Typical fabrications include beam, column and plate structures, all-fiberglass buildings using foam core panels, platforms and decking products as well as other custom fabrications involving grating and handrail.
Specialized OEM type structures such as cellular component structures and structures for the wastewater industry can also be accommodated.
To specify Strongwell's products in your next project, download the Strongwell Specifications Word document to the left.
Specialized Machinery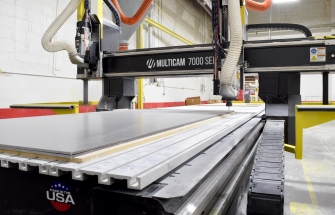 CNC equipment and other specialized fabrication machinery allow Strongwell to further meet customer needs quickly and cost effectively. Strongwell can rout, drill, grind, cut and paint parts to meet requirements for specialized parts.
Engineering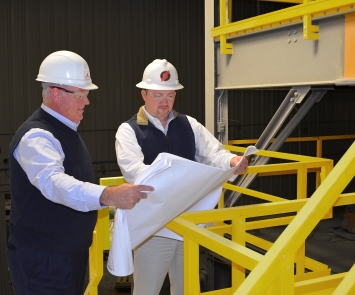 Strongwell has on staff registered professional engineers experienced in the design of fiberglass structures and systems for custom design requirements. Strongwell's extensive experience in fabrication procedures, joint design and stress analysis of composite assemblies, combined with the use of Strongwell's fiberglass products, results in structures of superior, cost-effective design and structural integrity. Clear, straightforward drawings are presented to the customer for approval before fabrication begins unless customer drawings are provided.
Applications
Platforms and Walkways
Raised Floor Systems
Loading Platforms
Ladder and Cage Systems
Water/Wastewater Products
All-fiberglass Buildings, Structures and Enclosures
Architectural Applications
Pollution Control Products
Equipment/Facilities
Roofs and Covers
Fabricating with Strongwell Products
If you are looking to fabricate fiberglass structures with Strongwell products, please complete a fabrication worksheet.
Fabrication manuals are also available on the product literature page.