Structural Shapes and Plate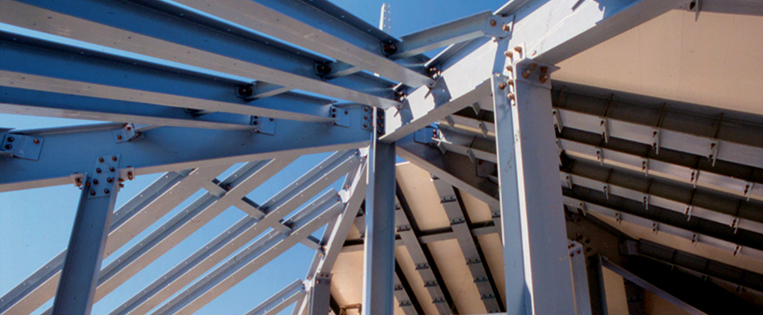 EXTREN®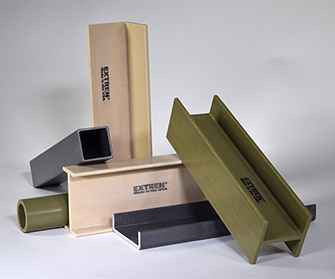 EXTREN® is the registered trade name for a proprietary line of standard pultruded fiberglass structural shapes and plate produced by Strongwell. The EXTREN® line consists of more than 100 different fiberglass shapes, each with a very specific, proprietary composite design.
EXTREN® shapes and plate can be identified by the EXTREN® logo embedded in the surfacing veil. All EXTREN® products meet or exceed the minimum published mechanical, physical, electrical, flammability, and corrosive properties of the respective Series published in the Strongwell Design Manual.
EXTREN® is offered in multiple series designed for different environments and applications.
SERIES 500

Premium Polyester Resin
UV inhibitor added

Standard Color: olive green
A general purpose resin with excellent corrosion properties

SERIES 525

Premium Polyester Resin,
UV inhibitor added
Flame retardant additives

Standard Color: slate gray
A general purpose resin with excellent corrosion properties and improved fire performance

SERIES 600

Premium Vinyl Ester Resin
UV inhibitor added

Standard Color: light gray
For harsher corrosive environments and higher temperature applications

SERIES 625

Premium Vinyl Ester Resin
UV inhibitor added
Flame retardant additives

Standard Color: beige
For harsher corrosive environments, higher temperature applications, with improved fire performance
SERIES 900
In addition to the above EXTREN® products, Strongwell manufactures custom pultrusions. These pultrusions vary from EXTREN® in either shape, resin type, or reinforcement (type, amount, location and/or orientation). Designers may choose to vary one or all of these parameters to improve strength, temperature resistance, corrosion resistance, machinability, or some other characteristic. Consult Strongwell with specific needs or questions.
E23
Any Series 500, 525, 600, and 625 EXTREN® product can be manufactured upon request to meet the mechanical and physical properties of BS EN 13706 (E23) European standards.  All standard EXTREN® products meet and/or exceed the structural requirements of E17 European standards.
| | |
| --- | --- |
| | All structural shapes are available in a polyester resin (Strongwell PE) and vinyl ester resin (Strongwell VE) which are certified to NSF-61. |
Features
Corrosion Resistant
Low Conductivity - Thermally and Electrically
Non-Magnetic - Electromagnetic Transparency
Lightweight
High Strength
Dimensional Stability
Low Maintenance
Quality and Availability
All Strongwell EXTREN® manufacturing facilities are ISO 9001 quality certified. This ensures the highest quality standards for producing EXTREN® structural shapes in a world class facility. A "first article" series of tests on each EXTREN® production run is designed to assure the end user that the structural members meet or exceed published minimum criteria.
EXTREN® is stocked by a network of distributors worldwide. Strongwell also maintains a large inventory to service distributors and prevent long lead times. The current EXTREN® products are shown on the EXTREN® Availability List.
To obtain the name of the distributor in your area, send an email with your name, location, phone number and product of interest to Strongwell and someone will contact you.
Fabricating with EXTREN®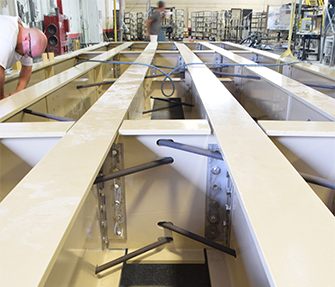 In addition to being the world's largest producer of pultruded parts, Strongwell is also the largest fabricator of structures utilizing pultruded components. Typical fabrications include beam, column and plate structures, all-fiberglass buildings, platforms and other custom fabrications involving grating and handrail.
If you are looking to fabricate fiberglass structures with Strongwell products, please complete a fabrication worksheet.
SAFPLATE®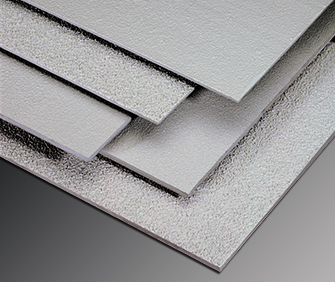 Fiberglass gritted plate is a tough, corrosion resistant floor plate. SAFPLATE®'s unique combination of pultruded fiberglass plate and an anti-skid grit surface creates textured solid sheet flooring that is ideal for both wet and dry environments.
Used in a variety of applications such as trench covers to contain vapors and fumes or pedestrian bridge walkways for sure footing, SAFPLATE® provides a long-lasting, low maintenance alternative to steel plate for severe, corrosive environments.
Applications
Walkways
Splash Walls
Overpasses
Bridge Decks
Pool Decks
Trench Covers
Odor Control Covers
Materials of Construction
SAFPLATE® is available as solid plate or bonded to DURAGRID® grating. Surface grits are available in urethane fine or medium (for light pedestrian applications), as well as epoxy fine, medium, coarse (#4) or extra coarse (#3). SAFPLATE® can also be customized to meet the requirements of a variety of applications.
Standard SAFPLATE® has a Class 1 flame rating of 25 or less per ASTM E-84 and meets the self-extinguishing requirements of ASTM D-635.
SAFPLATE® is available in 4' x 8' panels in standard EXTREN® plate thicknesses of 1/8", 3/16", 1/4", 3/8", 1/2", 5/8", 3/4", and, 1". SAFPLATE® is available in all standard EXTREN® Series. Custom colors and sizes are available upon request.