Electric Utility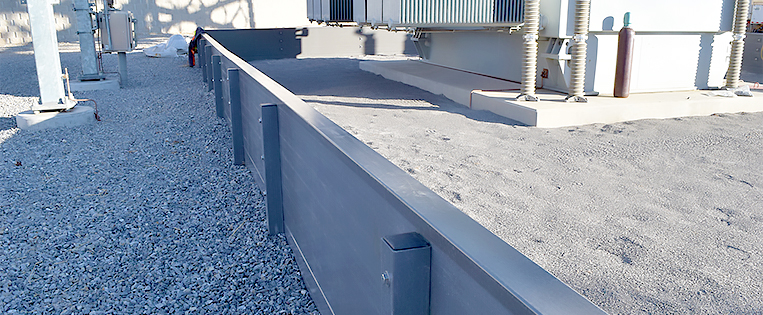 Strongwell's fiberglass Secondary Containment System and Utility Covers System are ideal for use in electrical substation applications and both are low in conductivity, lightweight, and easy to install.
COMPOSOLITE® Secondary Containment Systems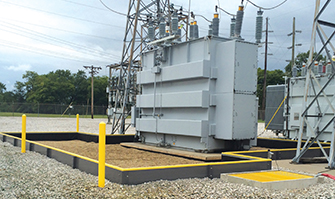 Originally developed for American Electric Power, Strongwell's COMPOSOLITE® Secondary Containment System is ideal for use in any application requiring secure containment of liquid or solid materials. The lightweight, high strength pultruded fiberglass Containment System is much easier and more cost effective to install than poured-in-place concrete or earthen containment alternatives. The system also can easily be installed in confined or remote areas and easily removed if necessary.
Each COMPOSOLITE® Secondary Containment System is designed for your specific application. Systems are shipped in kit form for field assembly. Standard wall heights are 24", 30", or 36" (other heights available upon request). A liner and drain system (offered by others) can be added to provide a complete wall/floor/drain system in applications involving liquid containment.
Features and Benefits:
Strong
Lightweight
Easy to Install
Reduced Installation Costs
Corrosion Resistant
Low Maintenance
Low Conductivity
Easy to Transport
Typical Applications include: Oil containment for electric substation transformers, secondary containment for chemical storage areas, and containment walls around construction sites.
Kit Contents
Each containment system is shipped with the following materials:
COMPOSOLITE® panels - maximum length 24' (weight approximately 7.5 lbs/ft. for standard panel)
Square tubes for post with pre-drilled holes
Corner angles with pre-drilled holes
316 stainless steel bolts
Cap channel with nylon rivets - furnished in 20' lengths for field cutting
Drill bits for bolts and rivets
Tubes of Pliogrip® adhesive
Adhesive applicator
Splice plates with pre-drilled holes
Flat strips and self-tapping screws for liner
Click here to read the Transmission & Distribution World magazine article featuring the COMPOSOLITE® Secondary Containment System.
Utility Trench Cover Systems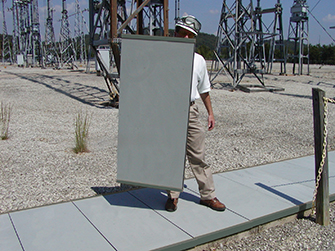 Strongwell's UTILICOVER® trench cover systems are strong and durable fiberglass covers which install easily and can be quickly removed by one person for trench access.
Features
Extremely lightweight
Strong and durable
Easy to install
Safe
Cost effective
Available in custom widths
Case History
Two substation installation jobs in Virginia and Tennessee were recently completed, immediately displaying the benefits of the new covers. In the course of six and a half days, a three-man crew used only twelve tons of UTILICOVER® panels to replace seventy tons of concrete covers! The project manager stated the UTILICOVER® covers were installed more quickly by hand than the concrete covers could be removed with an excavator.