Green Commitment
Strongwell's Green Commitment
As a responsible corporate citizen, Strongwell continually seeks to improve its practices through implementation of its Environmental Policy in order to protect the environment while providing essential, environmentally friendly products to our customers.
All Strongwell locations employ Environmental Management Systems providing audited verification of our dedication to continually improving the environmental impact of FRP composite production. In addition, Strongwell continues to fund third-party, peer-reviewed Life Cycle Analysis (LCA) studies, which invariably demonstrate the inherent environmental advantage of FRP composites compared to other materials such as aluminum and steel.
The Inherent Environmental Advantage of FRP Composites
Most of Strongwell's fiber reinforced polymer (FRP) composites are structural alternatives to traditional building materials like steel, aluminum, and concrete. Compared to these materials, the manufacture of Strongwell's pultruded FRP products produces fewer air and water emissions, consumes less energy and emits less greenhouse gas, leading to both a reduced environmental impact and a lower carbon footprint. Since FRP does not corrode or deteriorate, it can be recycled. More importantly, however, virgin production of FRP usually has less environmental impact than even recycling alternate materials, such as steel and aluminum. FRP composite products have high resistance to rot and corrosion, a longer and more economical service life and require less frequent energy-intensive maintenance and replacement. These inherent advantages lead to superior overall sustainability for our FRP products.
Strongwell's Approach
Strongwell is dedicated to assessing and reducing the environmental impact of its FRP composites. The tool of choice for comparisons of such impact with that of more traditional building materials, such as steel, aluminum and concrete, is Life Cycle Assessment (LCA). A presentation by Stanford University Professor Michael Lepech, at the American Composites Manufacturers Association's (ACMA) 2009 Annual Conference, provides useful information about LCA methodology and the terminology associated with the "Green Movement". LCA yields the most comprehensive analysis of a given product's environmental footprint. In addition, Strongwell is an active participant in the Green Composites Committee of the ACMA.
Regarding LEED
Leadership in Energy and Environmental Design, or LEED, rating system certifies entire buildings, not individual building and structural components. Therefore, Strongwell does not have LEED certification. Instead, Strongwell focuses on a more meaningful measure for its pultruded FRP components, which looks at embodied energy, life cycle costs and impacts, thermal bridging, and other environmental impacts which can be measured when considering FRP in construction projects. Download a printable version of Strongwell's LEED Statement here.
Sustainable Applications
A major component of Strongwell's commitment to creating long-lasting, sustainability-minded products is to review previously-installed projects for their durability. A Special Edition of Strongwell's PROFILE Newsletter, a corporate publication highlighting applications of FRP, is a good example of many of these projects where FRP materials have proven to provide a dramatically greater lifespan than traditional materials and have performed well in even the most unforgiving environments. For additional information, expanded versions of these case studies are available below:
Specific Initiatives
Understanding and Education
Strongwell is dedicated to educating the public to the overall environmental impact and economic benefit of FRP composites. An ACMA white paper on Life Cycle Inventory Data and terminology regarding "Green" issues are included on this website. A relationship diagram and glossary of terms related to the various "Green" issues are included HERE.
Life Cycle Inventory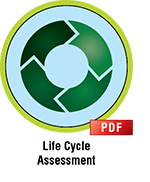 At Strongwell's request, an industrial platform was designed using the various FRP, steel, and aluminum shapes required to meet building codes. A Life Cycle Assessment compared the embodied energy of raw materials used in manufacturing these FRP products/shapes with the embodied energy of the required steel and aluminum products/shapes. The study, listed on this website, demonstrated that manufacturing FRP products compares very favorably with that of manufacturing aluminum and steel products. Strongwell is presently working to complete a total Life Cycle Assessment of the FRP products in the previous study to verify their reduced environmental impact for a 25-year service life of the platform.
Life Cycle Assessment
Two significant Life Cycle Assessment Comparisons performed for FRP composites versus traditional materials are also located on this site. Both of these reports, Life Cycle Assessment Comparison of 2 Aquarium Tank Systems: Fiber Reinforced Plastic and Concrete
and Environmental Considerations to Structural Material Selection for a Bridge, indicate that FRP composites compare very favorably with other materials studied. For instance, these early studies indicate that the carbon footprint for FRP composites is less than metals and concrete.
Manufacturing Impact Reduction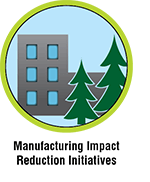 To further reduce the overall environmental footprint of Strongwell FRP composites, conservation improvements are underway within manufacturing. These have already yielded significant reductions in the usage of energy, solvents and landfill capacity, along with reduced generation of scrap, waste and emissions. A more complete description of these initiatives can be found here. Additional efforts are directed towards replacing raw materials and additives with more environmentally friendly alternatives.
Legal Compliance
Strongwell is fully committed to the protection of the environment in both our manufacturing processes and in the end use of our products. As an obvious first step we are committed to being fully compliant with all environmental, health and safety regulations and laws. We have reduced our air emissions to a level well below the regulatory requirements and have reduced waste by over 30%. We do not use heavy metals in any coatings or pigments and are constantly seeking new, more environmentally friendly raw materials.
Our commitment, however, goes well beyond legal compliance. Our objective is to continuously educate ourselves concerning health and environmental science and perpetually strive to improve our environmental performance.
A more complete description of regulatory requirements can be found HERE.
The Future
ACMA and Strongwell are confident that expanded studies currently underway will continue to demonstrate that FRP composites are exceptionally eco-friendly. Bio-resins and natural reinforcement fibers are now available and are beginning to appear in some new products. Continued research by resin and reinforcement manufacturers is expected to result in additional options for the FRP industry to further improve its position as the preferred GREEN solution for construction materials. We believe that FRP composites are already the best choice for reduced environmental impact, longer service life, and greater sustainability. And, unlike metals which have little potential for improvement, FRP materials will become even better.
Strongwell welcomes questions, comments or inquiries concerning its Environmental Management System.
EMS Contact information
Phone: (276) 645-8000
E-mail: [email protected]