Machinery & Technology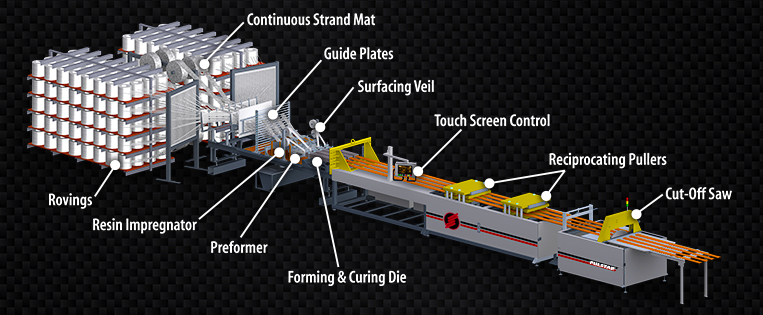 In addition to manufacturing its broad range of high-quality pultruded structural products, Strongwell designs and builds pultrusion equipment under the PULSTAR® trade name.  When you buy PULSTAR®, you will have the same high-quality line of pultrusion machinery used in all Strongwell facilities. The Company also continuously upgrades and expands its intellectual property related to all elements of pultrusion technology.
PULSTAR® Equipment
A PULSTAR® equipment purchase will include the following:
Choice of caterpillar or reciprocating puller section
Touch screen control module
Closed-loop drive control system for precise control of pull speed
Machine walk through space
Roll-off table
Installation and start-up support worldwide
In addition, the system can be tailored to the purchaser's specific needs. The buyer thus has the benefits of Strongwell's ability to plan the system for future growth and Strongwell's experience in designing each component of the system to meet specific product needs.
Additional Services & Programs
Strongwell can offer complete turnkey pultrusion systems or whatever part of that pultrusion package you need - from pultrusion machinery with plant design and layout, to support or ancillary equipment, tooling and dies, to pultruded parts.
Technology Transfer Packages
Development Programs
Plant Layout
Equipment Start-Up Services
Consulting Services
Machinery Repair & Field Service
Licensing
Strongwell entertains licensing inquiries, particularly from companies in areas of the world where freight, tariffs, politics or a combination of many factors make local manufacturing desirable.
Strongwell licenses vary from non-exclusive specific fiberglass pultrusion technology to broad-based multi-product, multi-technology licenses involving patents and trademarks. We realize that licensing relationships must be customized for the marketing and legal environment of the country of the prospective licensee, and we work to achieve mutually agreeable terms and conditions.
Strongwell licenses are not inexpensive, but the value received is significant and unmatched. Licenses generally include the transfer of confidential and proprietary manufacturing and processing technology; health, safety and environmental considerations; marketing and sales training; quality control and testing procedures; and hands-on training of manufacturing personnel at one or more Strongwell locations - and at the licensee's plant.