Infrastructure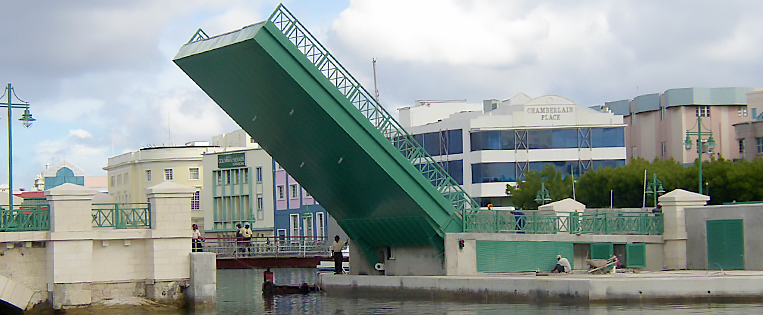 Strongwell is actively involved in the advancement of FRP technology for civil infrastructure applications. These efforts include the research and development of new FRP products as well as involvement with ASCE, AASHTO, ASTM, FHWA and NIST in the establishment of engineering and performance standards.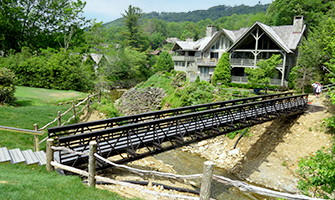 Emerging applications for Strongwell's pultruded FRP products include pedestrian bridges, AASHTO HS-25 bridge superstructures, decks, and guard rails. The bridge industry's interest in FRP as a replacement for traditional steel and concrete materials is due to:
Inability of traditional materials to resist corrosion
Rising costs of traditional materials (steel, wood, concrete) and associated increasing installation labor costs
Less public inconvenience and improved construction worker safety due to shorter installation periods
Significantly lower long term maintenance and replacement costs
The useful life extension of existing bridge superstructures with lightweight FRP bridge decks
A description of existing applications and new products under development are mentioned in the page below. These include AASHTO HS-20 Bridge Superstructures and AASHTO HS-25 FRP Bridge Deck Systems.
Bridge Superstructures
Tom's Creek Bridge: Blacksburg, Virginia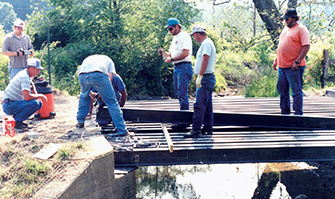 8" x 6" EXTREN DWB® double-web beams replaced 10" wide flange steel beams in the 18 foot span, two-lane bridge.
The bridge was upgraded from a 10-ton to 20-ton capacity after the rusted, severely deteriorated steel beams were replaced. Total construction time for steel beam removal and replacement with the composite beams and a timber deck was less than five days.
The bridge utilized Strongwell's FRP hybrid 8" x 6" double-web beam that has carbon fiber in the flanges to increase the beam's stiffness to more than six million psi.
The unique double-web design featuring internal flange stiffeners also provided a beam with less than 1/2% rotation under three-point loading in laboratory tests.
Sugar Grove, Virginia
The Virginia Department of Transportation (VDOT) installed eight 36" x 18" EXTREN DWB® beams as a replacement for deteriorated steel beams in a two lane vehicular bridge in Sugar Grove, Virginia.
This bridge demonstration project was sponsored by the Innovative Bridge Research and Construction Program of the Federal Highway Administration.
Strongwell, Virginia Tech and the Virginia Transportation Research Council worked together for two years analyzing and testing the 36" x 18" EXTREN DWB® beams to ensure these new FRP beams could meet all the requirements of an AASHTO-HS20 bridge. The new bridge exceeds VDOT's standard bridge requirements for design safety and is expected to surpass other VDOT's bridges in terms of useful service life since the FRP beams are not subject to environmental corrosion. Engineers from Virginia Tech installed a data monitoring system on the bridge to collect performance data for VDOT and FHWA for a period of two years.
Bridge Decks
FRP Reinforcement for Concrete Bridge Decks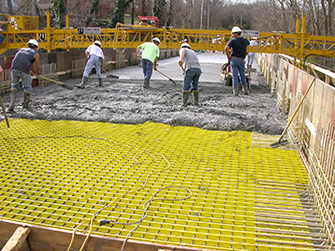 GRIDFORM™ is a pre-fabricated fiber reinforced polymer (FRP) double-layer grating, concrete-reinforcing system with integral stay-in-place (SIP) form for vehicular bridge decks.
The system consists of FRP plates bonded to the bottom grating of FRP double-layer grating panels, creating a bidirectional, lightweight panel for the grid construction of corrosion-free concrete bridge decks.
The lightweight GRIDFORM™ panel, which weighs only 4.7 pounds per square foot, is shop-fabricated in very large units that are limited only by shipping constraints to approximately 50 ft. by 8 ft.
When the GRIDFORM™ arrives on site, it is lifted with a single pick of a crane and placed directly in the bridge girders. The GRIDFORM™ panel is pre-engineered and detailed to enable rapid attachment to the bridge girders and subsequent concrete placement and forming.  The anticipated lifespan of a GRIDFORM™ bridge deck is several times that of steel reinforced concrete bridge decks since FRP provides a corrosion-free reinforcement system for the concrete.
Sheet Piling and Round Pile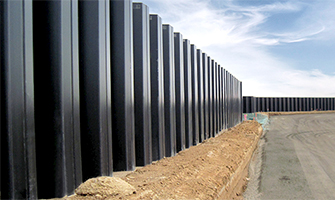 FRP Sheet Piling can be used in flood control and levee repair applications and has been used in designs to replace steel Sheet Piling such as PZ27. UltraComposite Sheet Piling profiles, offered by CMI, are currently the widest and strongest synthetic sheets produced in the world.
Strongwell manufactures Sheet Piling exclusively for Crane Materials International. CMI's 25 years of experience has yielded a large network of professionals that can help your project succeed. Especially in the beginning stages of your project, CMI's network
of contacts can be a valuable resource for providing access to experienced engineers, installation contractors, equipment suppliers, and permitting experts in your area.
If you are attempting to control flooding, overtopping, internal seepage, piping of stratum, surface erosion or rodent damage in a flood control, levee repair or earthen dam project contact CMI to assist with your piling project today!