Transportation

Certain advantages occur when traditional materials typically used in the transportation industry are replaced with FRP composites.
Advantages
lightweight
strong
high performing
chemical and corrosion resistant
easy to fabricate
high quality
Incorporating FRP into structures and designs  reduces the overall structure weight and foundational requirements.  The ability to ship overall structures in multiple portions allows the installation to be rapidly deployed in sections while reducing congestion in work zones and improving safety.
Mass Transit
Architectural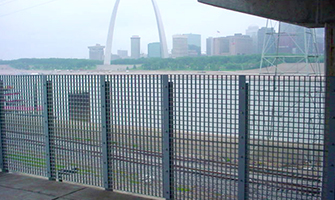 Fiberglass used in transit systems offers a long-term solution for corrosion and maintenance issues. The Bi-State Metro Link in St. Louis, MO replaced its steel windscreen and benches with FRP. Strongwell's pultruded product offers protection from painting,  peeling, and unsightly scratches. When made of the typical material, steel, the structures have to undergo yearly painting as well as graffiti removal.  FRP requires virtually  no maintenance and graffiti can easily be cleaned from FRP with a bleach/solvent solution. Impact resistance and non-conductivity also provide significant safety gains versus steel.
Traditional metal (customized steel)  fencing  have rusted or peeled to cause significant eyesores and eventually leading to trespassing issues for transportation authorities.  Using molded grating allows the pedestrians to enjoy the landscape while offering a functional fence which offers corrosion and maintenance free years of service.
Click here to learn more about this Case Study.
Construction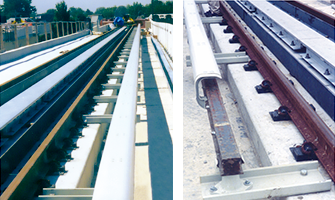 Strongwell fiberglass products have proven invaluable in mass transit construction. Strongwell fiberglass products have been used in an 8-mile, $1.5 billion commuter rail system that connects New York City with JFK International Airport. The project utilized approximately 100,000 feet of fiberglass protection board to cover the railways' electric third rail.
31,000 linear feet of SAFRAIL™ were installed  along with 700,000 square feet of DURAGRID®.  From third rail protection boards and buss bars to grating and handrail, the non-conductive nature of FRP continues to remain the natural choice when it comes to commuter and worker safety.
Click here to learn more about this Case Study.
Maintenance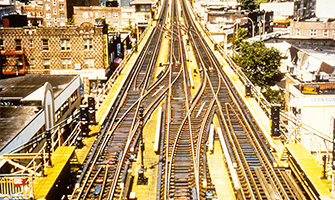 The New York Transit Authoritiy turned to non-conductive FRP when it had to replace 174 miles of elevated wooden train track walkways. The added safety features of FRP simply outnumbered that of wood. The wet wooden walkways were treacherous when wet, causing maintenance and safety issues when moisture came in contact with debris. One of the benefits of Strongwell's FRP is that it is engineered with opened spaces, allowing debris and moisture to easily pass through without any long-term buildup, ensuring better traction. The pultruded grating was shipped in safety yellow and will never need painting even when placed in contact with multiple years of exposure with de-icing salts, urban pollution, impact,  and chemicals.
Click here to learn more about this Case Study.
Automotive
Driveshafts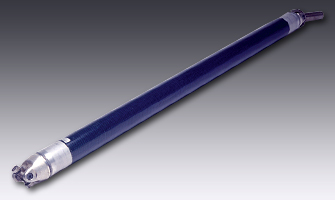 A lightweight, one-piece driveshaft featuring fiberglass/carbon fiber-reinforced vinyl ester pultruded over an aluminum tube was the first high-volume auto industry application of aerospace technology. The Spicer Graph Lite™ driveshaft made its market debut in 1987 on General Motors 1988 model GMT-400 pickup trucks.
The graphite/fiberglass/aluminum driveshaft tube was developed as a direct response to industry demand for greater performance and efficiency in light trucks, vans and high performance automobiles. Replacing conventional two-piece steel driveshafts, the Graph Lite™ composite driveshaft offered the following benefits:
60% lighter than a two-piece steel driveshaft, with an average 20-pound weight saving per vehicle
Eliminated a multi-piece driveline, thus reducing assembly time, inventory costs, maintenance and part number complexity
Eliminated warranty associated with center bearings
Transfer of powertrain noise and vibration to the passenger compartment decreased due to inherent dampening characteristics of composite material and less rotating mass
Composite material protected against driveline deterioration from corrosion—leading to longer life
Most significantly, it permitted custom design of driveshaft performance based upon vehicle use and powertrain systems
Click here to learn more about this Case Study.
Support Structures/Reinforcements
Fiberglass components may also be used as support beams in automotive applications. Chrysler used a fiberglass beam to support a blow molded polyethylene fuel tank. The lightweight, noncorrosive and strong nature of the beam offered superior heat, corrosion and impact resistance than steel.
Other manufacturers are using fiberglass and carbon-fiber polymers for stiffeners, reinforcements, and even crash protection systems.
Specialty Infrastructure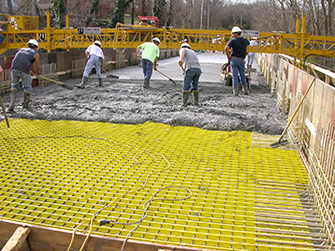 Fiberglass decking can be used as a long-lasting and lightweight concrete forming system. In Black River Falls, WI, 2,400 square feet of interlocking decking panels were installed upside down and did not have removed as wooden forms resulting in a much faster installation.
Click here to learn more about this Case Study.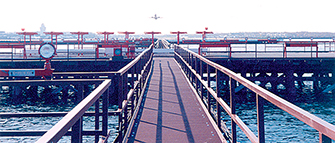 Strongwell provided 1.5 miles of catwalks and platforms to replace timber structures for the Port Authority of New York and New Jersey. Switching to FRP saved the Port Authority over $16.5 million in expected maintenance costs over traditional materials due to FRP's ability to withstand the the salt water environment, bird droppings, and jet exhaust. The six maintenance personnel previously assigned to maintain the previous structure were all reassigned to other projects.
Click here to learn more about this Case Study.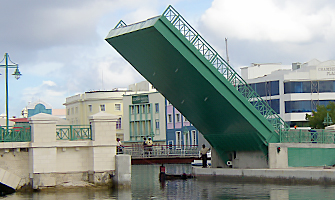 FRP continues to replace steel in vehicular superstructures as it did in the Chamberlain Bridge in Barbados. Structural shapes and plate and building panel systems were used to maintain the aesthetic appeal of the once obsolete bridge, while allowing the operators to maintain the old lifting mechanism for single leaf bascule bridge. The bridge was shipped in four sections and was assembled on site with adhesives and, toggles, and 3-way connectors. The bridge will easily outlast its steel counterpart for years to come in the corrosive saltwater environment.
Click here to learn more about this Case Study.