Case Study: Apartments Use EXTREN® for Aesthetics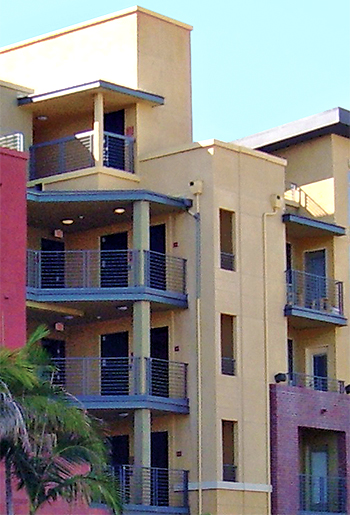 Several apartment buildings in downtown Los Angeles chose a unique architectural application for Strongwell products.
To achieve a more "modern" look, the Savoy Apartment buildings were in need of steel trim for balconies and walkways. Savoy Apartments researched options and chose gray EXTREN® FRP shapes instead of steel to trim the edges of the street-front apartments because EXTREN® was the most similar to the specified steel in properties and aesthetics. Eight-inch EXTREN® C-channels matched the steel properties and even offered more benefits! The channels could simulate the metal beam supports under balconies and aesthetic trim at exterior walkways.
TECHNICAL DATA
Product: Architectural Balcony Trim
Process: Pultrusion
Materials: EXTREN® 525 series fiberglass reinforced polyester, fire retardant
Sizes: EXTREN® 8" C - channels
For: Trammell Crow Residential
User: Savoy Apartments - Los Angeles, CA
The channels were mounted approximately 1" away from the face of the building as specified to allow rain water to run behind it. Since the trim would constantly be exposed to weather's elements, maintenance was crucial. A deciding factor in choosing EXTREN® was that it will not rust and no annual repainting will be needed – saving on maintenance time and money.
Installing the FRP structural shapes also saved time because the material was much lighter than steel. Two men could perform the installation without the use of cranes or heavy duty lifts.