Case Study: Cold is no Problem for DURASHIELD® Building on Alaskan North Slope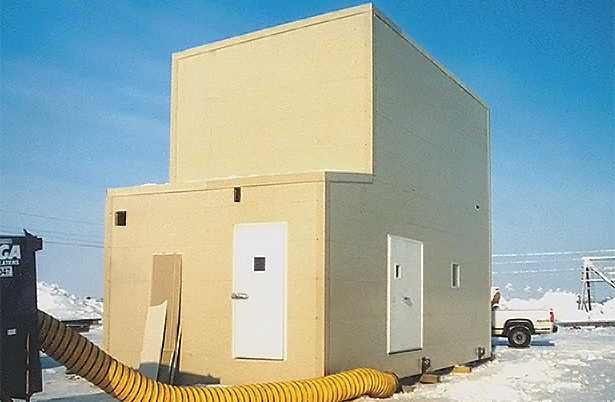 Long known for its excellent corrosion resistance and high strength, DURASHIELD® is also proving itself in the harsh frozen environments of the North Slope.
DURASHIELD® foam core building panels and EXTREN® Series 525 Fiberglass were used to fabricate the sand jetting skid fiberglass building for the Kuparuk River Field Unit on the Alaskan North Slope. The 33' long x 14' wide x 20' high building was designed by Alaska Anvil and fabricated by APC for ARCO Alaska's Kuparuk CPF-1. Lubchem of Alaska, Inc., a Strongwell Representative, was consultant prior to and during construction.
TECHNICAL DATA
Product: Fiberglass Building
Process: Pultrusion
Materials:
DURASHIELD® fiberglass reinforced polyester foam core panels
EXTREN® Series 525 fiberglass reinforced polyester, fire retardant
Sizes: Overall Building Size:
20' high x 14' wide x 33' long
DURASHIELD® panels:
3" thick x 24" wide x various lengths
For: ARCO Alaska, Inc., Kuparuk River Field
The building, constructed of 3" x 24" DURASHIELD® siding and roofing panels, was engineered for a forty pound snow load and 100 MPH winds. The DURASHIELD® tongue and groove panels have a 3 pound per cubic foot of rigid closed cell polyurethane foam core which provides an "R" value of R-21.
DURASHIELD® was selected for this project for its durability, light weight and thermal properties. The ease of installation was especially important since the building's size required it to be fabricated at the North Slope.