Case Study: Composite Cooling Tower Takes Innovative Approach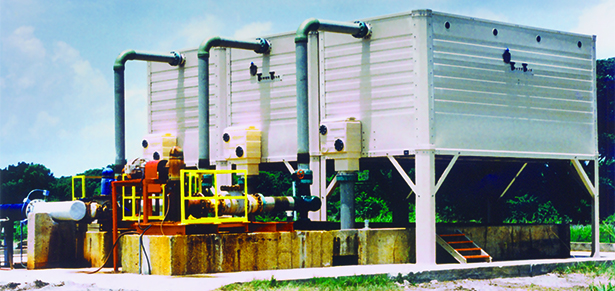 The innovative, all-fiberglass cooling tower by Tower Tech Inc., Norman, OK, turns the whole design of cooling towers upside down! Designed to revolutionize the market, the composite cooling tower uses the largest commercially produced pultruded profiles for the structure, while mounting the fans at the bottom of the tower instead of the top.
TECHNICAL DATA
Product: Cooling Tower Structural Components
Process: Pultrusion
Materials: Fiberglass reinforced vinyl ester
Sizes:
Top Wall: 43.250" x 2.375" x .25"
Mid Wall: 47.250" x .75" x .25"
Center Beam: 41.312" x 10.25" x .25"
Angle: 5" x .5"
Bottom Basin: 47.000" x 7.905" x .25"
Gusset: 14" x .5"
Leg: 7.315" x 7.315" x 7.315" x .5"
For: Tower Tech Inc.
The combined structural design, composite engineering and pultrusion processing expertise of Strongwell was necessary to produce the seven complex custom profiles that comprise the structure. A specially designed pultrusion machine (one of the largest pultrusion machines in the world) was necessary to produce these profiles.
Four interlocking sections, each nearly 4' wide profiles, are connected with custom-sized angles and gusset plates and supported by the custom leg shape. The two largest components, a center beam and bottom basin, are hollow profiles nearly 4' wide and up to 10" deep.