Case Study: COMPOSOLITE® A Strong Choice for Wastewater Applications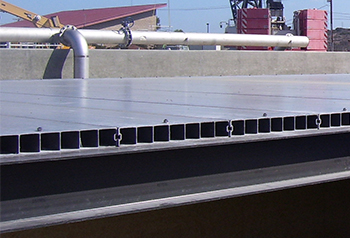 A group of tertiary treatment plants with open reclaimed water contact basins in Southern California needed a solution which minimized chlorine loss while preventing potential algal blooming due to prolonged exposure to sunlight. CDM Smith invited Strongwell to submit a bid for covers to resolve this issue. Strongwell provided an alternative to the traditional thin-walled fiberglass and aluminum covers, as those have span and stiffness issues. Strongwell's design utilized COMPOSOLITE®, partially because it offers a state of-the-art internal core structure which can handle more weight and could cover the reservoirs without needing extra structural support. Unlike aluminum, COMPOSOLITE® (FRP) does not corrode, is less expensive than aluminum and is safer in this application to touch and walk on. The lightweight, high-strength FRP panels were delivered on one truck with minimal effort to off-load and store. Greg Thomas, owner of Alliance Utilities & Construction Inc., in Temecula, CA stated they were able to install the panel system on site with minimal field trimming and reduced labor costs.
TECHNICAL DATA
Product: Tertiary Water Treatment Covers
Process: Pultrusion, Fiberglass Fabrication
Materials: COMPOSOLITE® fiberglass reinforced polymer building system
Sizes: COMPOSOLITE® 24" x 3" panels
For: CDM Smith; Filanc Construction Co., Inc.
User: Tertiary Treatment Plant in Southern California
Fabricated by: Alliance Utilities & Construction Inc.
Eric Romero and Sean Sullivan, CDM Smith site Construction Managers, both felt the COMPOSOLITE® reservoir covers exceeded their expectations and will continue to bid for COMPOSOLITE® in upcoming wastewater projects. Bruce Cornwell, Filanc site Construction Manager, was also pleased with the quality and ease of installation.