Case Study: Drury Inn Fencing and Railing Big on Looks, Low on Maintenance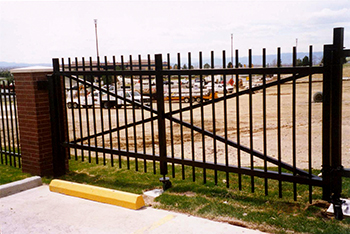 Drury Inns has established a new look for its fencing and exterior railings that saves on maintenance and replacement costs. Fiberglass fencing made from 2" and 1-3/4" EXTREN® square tube, custom pultruded in brown or black, is fabricated to look like wrought iron. The result is an attractive, long-lasting alternative to iron or steel that is corrosion resistant and doesn't need painting.
TECHNICAL DATA
Product: Fencing and Railing
Process: Pultrusion, Fiberglass Fabrication
Materials: EXTREN® Series 525 fiberglass reinforced polyester, fire retardant, custom colors
EXTREN® structural shapes used:
2" x 1/4" Square tube
1-3/4" x 1/4" Square tube
For: Drury Inns
The new FRP fabricated fencing and railing is now standard for all new Drury Inn construction and for any renovations. It is used for perimeter fencing and exterior railings for balconies, stairs, and pools. Drury Inns selected fiberglass for its lower installed costs, low maintenance, and ease of assembly.
The FRP fencing is durable and long-lasting - an important consideration for Drury Inns which has more than 200 properties throughout the Midwest.