Case Study: DURADEK® Grating Provides Subfloor in Hazardous Materials Storage Structure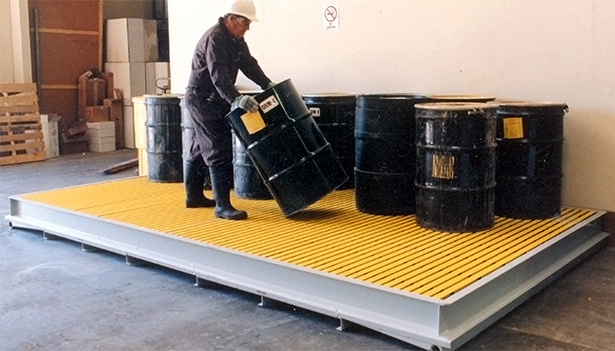 DURADEK® fiberglass grating is the subfloor of a building designed for hazardous materials storage. The building (Model 22S), fabricated by Safety Storage, Inc. of Cupertino, California, is 22' long x 8-1/2' high x 9' wide and has a 570-gallon hazardous material spill containment capacity under the subfloor.
In the production facility, 55-gallon drums of hazardous material are in continuous use and are constantly moved in and out of the building with forklifts.
TECHNICAL DATA
Product: Subfloor for Spill Containment Sump
Process: Pultrusion
Materials: Fiberglass reinforced vinyl ester, fire retardant
Sizes:
DURADEK® I-6000 1" grating (currently DURAGRID®)
DURADEK® T-3500 1" grating (currently DURAGRID®)
For: Safety Storage, Inc.
The fiberglass grating selected for this spill containment sump had to have excellent corrosion resistance, as leakage is the primary concern. It had to be strong, durable and have high impact resistance.
The DURADEK® I-6000 1" open grating used here allows spills to run through into the containment reservoir. It is manufactured using a vinyl ester resin for maximum corrosion resistance and is fire retardant (a requirement for the explosion proof building).
DURADEK® grating and all materials used here are in compliance with federal guidelines for safe hazardous materials storage. Safety Storage buildings are used widely in the chemical industry but are suitable for general industry as well.