Case Study: Easy Access with Fabricated Covers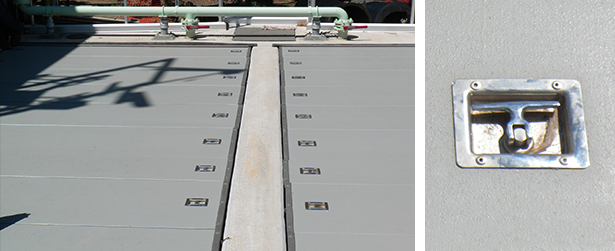 The Mulberry wastewater treatment plant, located in Fort Collins, Colorado, installed FRP covers. The treatment plant required a removable cover spanning an 8-foot area without building an additional structure. Strongwell's distributor Pipe Valve & Fitting offered COMPOSOLITE® covers in lieu of aluminum covers to Montgomery, Watson and Harza Engineering and their contractor, Hydro Construction.
TECHNICAL DATA
Product: Wastewater Treatment Covers
Process: Pultrusion, Fiberglass Fabrication
Materials: COMPOSOLITE® fiberglass reinforced polymer building system
Sizes: COMPOSOLITE® 24" x 3" panels
For: Pipe & Valve Fitting; Montgomery, Watson and Harza Engineering
User: Mulberry Wastewater Treatment Plant - Fort Collins, CO
Fabricated by: Hydro Construction
The covers were installed in an 8' x 40' section and several 8' x 8' sections. COMPOSOLITE® was chosen over aluminum due to its higher strength-to-weight ratio, translating into a better product for maintenance personnel access and foot traffic. The hollow core construction of the COMPOSOLITE® covers also allowed for easy acceptance of a stainless steel recessed T-Bar handle for an interference-free surface. The project was installed in phases in 2010 and 2011.