Case Study: Fiberglass Bridges Keep the Sea Life Show Going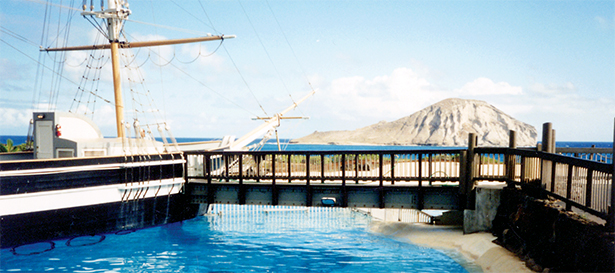 Two 36' long x 3' wide redwood bridges at the Sea Life Park in Waimanolo, Hawaii were rotting out and being replaced every two to five years, which was not only costly, but extremely inconvenient. Since the redwood bridges cross from the shore to the boat in the middle of the dolphin tanks, the dolphin shows for the public had to be closed down for two weeks to replace the bridges.
Sea Life Park General Manager, Jay Dowsett, and his staff found an ideal solution when they selected bridges fabricated of fiberglass support structures with decks of treated douglas fir.
TECHNICAL DATA
Product: Fiberglass Bridge
Process: Pultrusion
Materials: EXTREN® Series 525 fiberglass reinforced polyester, fire retardant
Sizes: Main bridge supports:
24" I-beams fabricated from 1/2" plate and 6" x 1/2" angle
For: J. T. Ryerson & Son
User: Sea Life Park, Waimanolo, Hawaii
The main support of each bridge is a 24" I-beam fabricated of EXTREN® structural shapes. Two I-beams are used for each gangway. Sea Life Park is located near the ocean and the bridges cross over the salt water dolphin tanks. This naturally corrosive environment quickly corrodes steel, aluminum and stainless steel. The fiberglass/wood bridges appear to be completely corrosion free except for the stainless steel fasteners, which showed signs of corrosion less than a year after installation. In addition, several hundred lineal feet of EXTREN® 2" x 1/4" round tube installed four years ago for fiberglass fences and gates, some of which were totally immersed in water, are still performing very well and have a "good as new" appearance.
Steve Kaiser, Facilities Management Director said the fiberglass bridge superstructure and fencing in the park looks great. "I anticipate that we will replace the wood decks several times before the fiberglass ever needs replacing."