Case Study: Fiberglass Decking a Problem Solver for Football Fan Deck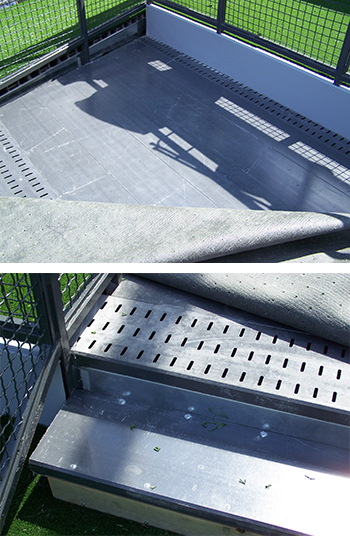 Philadelphia Eagles fans now have an excellent location to watch the game and be front and center for the live halftime performances. This new destination for fans is known as the Miller Lite Phlite Deck and is located on the south corner of Philadelphia's Lincoln Financial Field. While enjoying the game from the deck, spectators may not know that supporting the fans on the Phlite Deck is high performance SAFPLANK® decking.
The SAFPLANK® decking system consists of 12 inch wide fiber glass panels that interlock to form a continuous solid surface. Twenty-four inch wide panels are also available. Drainage slots were drilled into a portion of the panels by Strongwell to allow for drainage. To finish the flooring, an artificial turf grass was glued over top of the SAFPLANK® decking.
TECHNICAL DATA
Product: Fiberglass Decking
Process: Pultrusion, Fiberglass Fabrication
Materials: SAFPLANK® fiberglass interlocking decking system
Sizes:
12" x 20', 2" thick
24" x 20', 2" thick, perforated
For: Harrington Industrial Plastics
The materials were distributed by Harrington Industrial Plastics and installed by Widener Construction of Fairless Hills, Pennsylvania. SAFPLANK® was selected because the customer required a product that could be easily fabricated two weeks prior to the first pre-season Eagle's game.
Strongwell's SAFPLANK® scored big with the customer because of the fiberglass decking's lightweight, durability and resistance to inclement weather. In addition, the contractor reported the fiberglass panels were easy to cut and install.