Case Study: Fiberglass Gives Shoe Tannery a New Lace on Life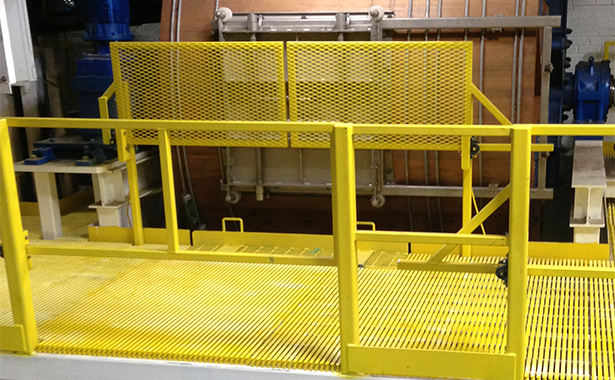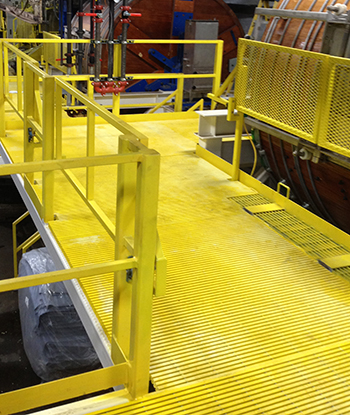 A U.S. leather tannery which provides leathers to a major American heavy work boot manufacturer needed a long term grating replacement for its facility in Minnesota. As this facility approaches its sesquicentennial anniversary, it has an extensive portfolio of quality versatile leathers. The success of the tannery has been attributed to the utilization of a lengthy chrome tanning process. The process involves tremendous temperature adjustments, chemical processes, constant exposure to moisture, and extensive testing to ensure the highest quality end products.
To say the least, this chemical processing environment is extremely challenging for traditional structural materials. The benefits of FRP made it the clear choice for the 6-8' of elevated catwalk decking around each tannery coloring drum.
TECHNICAL DATA
Product: Elevated Walkway
Process: Pultrusion, Fiberglass Fabrication
Materials: DURAGRID® fiberglass reinforced grating, color yellow
Sizes: DURAGRID® I-4000 1-1/2" grating
User: U.S. Leather Tannery
Strongwell provided and delivered sized-to-order yellow 1-1/2" DURAGRID® I-4000 panels for tannery maintenance staff to quickly and easily install in existing support structures. By doing so, the tannery experienced minimal downtime while achieving huge improvements in aesthetics, durability and corrosion prevention.
Asked why this company chose to buy Strongwell's product, management replied, "After examining multiple samples, making the decision to purchase a far superior product in design and craftsmanship from a local, 'Made in USA' product was an easy decision."