Case Study: Fiberglass Grating Streamlines Safety for Rail Systems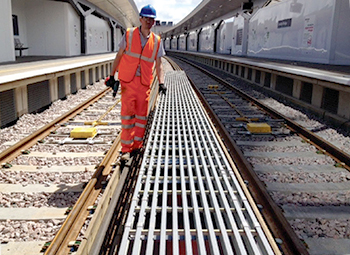 Network Rail owns more than 2,500 railway stations covering over 20,000 miles of track and 40,000 bridges and tunnels within the United Kingdom. Network Rail chose to improve safety and cut maintenance costs by replacing concrete walkways and structures with fabricated DURAGRID® walkways and shunter patios adjacent to the train tracks. The installation was a major achievement for the rail industry and exemplifies the overall acceptance and use of composite materials.
TECHNICAL DATA
Product: Shunter Patios
Process: Pultrusion, Fiberglass Fabrication
Materials: DURAGRID® fiberglass reinforced grating, color gray
Sizes: DURAGRID® I-6000 1-1/2" grating
For: Pipex px®
User: Network Rail
Pipex px® incorporated a design which limited disruption for Network Rail, drastically reducing installation time by incorporating off-site prefabrication and only working through the weekends, in ten hour intervals, to ensure minimal disruption to the public and to the rail link. 1 1/2" DURAGRID® I-6000 was the material of choice due to its non-conductive properties, outstanding corrosion resistance and durability against nature's elements. The anti-skid grit surface of the FRP offered a great contrast to the worn concrete structures and walkways, both of which were hazardous during heavy rain and in the winter.
The fiberglass shunter patios and walkways have eliminated all concerns regarding the pitting and spalling of the previous concrete structures and are expected to last at least sixty years, according to Pipex px® estimates.