Case Study: Fiberglass Secures Rooftop Access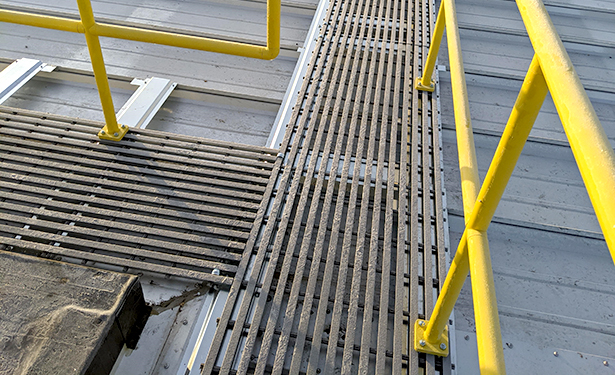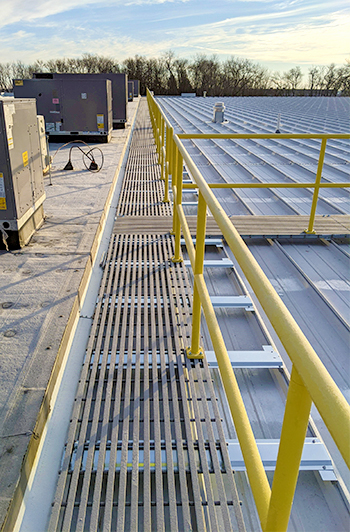 A manufacturer of freight truck parts in Owatonna, Minnesota, recently erected a new 85,000 square-foot facility as the market demands for its products outgrew the capacity of its original factory.
Outfitted with a standing seam metal roof, the owners of the facility needed a corrosion resistant and lightweight solution for rooftop maintenance access. Designed with only a single hatch serving as a point of entry and exit, a connecting walkway system was needed to join the hatch with each of the nine rooftop HVAC units along with supporting equipment.
As this was an exterior application with long span capability, excellent corrosion and UV resistance, and weight minimization were all listed as mandatory requirements for the procurement of building materials for construction design.
Smidt Construction worked with the owners of the facility in designing and procuring Strongwell's FRP products for their proven performance and FRP's corrosion resistant characteristics.
TECHNICAL DATA
Product: Rooftop Access Walkway System
Process: Pultrusion, Fabrication
Materials & Sizes:
DURAGRID® 1" ET-5000 Pultruded Grating


SAFRAIL™ 2" Round Railing
For: Smidt Construction
User: A Minnesota manufacturer
This project required (43) DURAGRID® 1" ET-5000 panels and (43) SAFRAIL™ 2" round railing sections to be delivered onsite. As recommended for exterior applications, an optional polyurethane coating was applied on the SAFRAIL™ sections prior to installation. The contractor was able to fabricate onsite without the use of heavy machinery or hot works.
Now complete, the entire walkway structure provides about 2,150 square feet of walking surface area and 860 linear feet of SAFRAIL™ handrail.
The general contractor was pleased with the overall ease of installation and fabrication process with FRP. The owner of the manufacturing facility was pleased with the aesthetics and minimal worksite interruptions or restrictions during the installation.