Case Study: Fiberglass Structures Save Installation and Maintenance Costs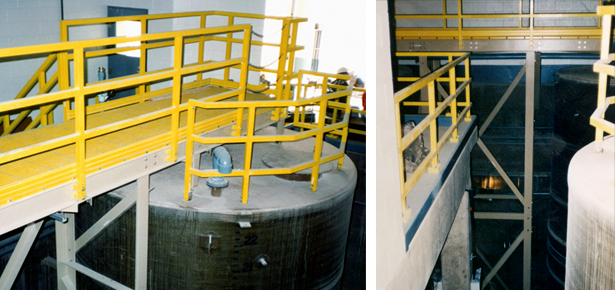 Strongwell designed, manufactured and fabricated 18 fiberglass platforms, 48 fiberglass ladders and fiberglass grating covers for sump pit and trenches installed at the Moffat Filter Plant (Water Board) City of Denver, Colorado. This was part of a $26.5 million expansion and improvement project for the filter plant. Strongwell Chatfield Location worked on this project for a year and a half supplying 192 engineered drawings and prefabricated structures.
TECHNICAL DATA
Product: Fiberglass Platforms, Handrails, Ladders and Grating
Process: Pultrusion
Materials:
EXTREN® Series 625 fiberglass reinforced vinyl ester, fire retardant
DURADEK® I-6000 1-1/2" fiberglass reinforced vinyl ester grating, yellow (currently DURAGRID®)
SAFRAIL™ fiberglass handrails and ladders
For: Pipe Valve and Fitting Company
User: Moffat Filter Plant, Denver, CO
The Denver Water Board chose fiberglass versus standard construction materials because of the corrosive environment and to reduce maintenance in the future. This project involved some unique design criteria including building platforms and walkways over three tanks that were 35 feet high. The pump room design included a two-story platform with a removable 20' x 30' pit opening on the top platform.
Cedric/Jones Construction Company, the contractor for the project, stated that all of the FRP structures were easy to assemble and went together very quickly. Due to the light weight of fiberglass, skilled installers were able to physically handle the individual pieces during assembly, eliminating the need to rent large cranes or booms. This factor and the speed of erection were very beneficial and cost effective for the contractor.