Case Study: Filter Press Platforms Utilize Structural Fiberglass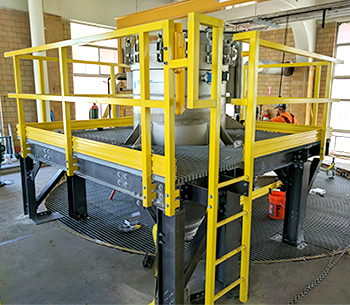 A customer in Louisville, Kentucky, recently approached Advantic, LLC with the need to design, fabricate, and kit an industrial support platform to house an 8,000 lb. process vessel. Additionally, the platform needed to house piping, provide walking surfaces, and offer edge protection for maintenance crews alike.
As with all its structural designs, Advantic considered the concerns of Allowable Strength Design and the Load and Resistance Factor Design methods through simulations. These simulations illustrated how the structural system would respond to dynamic and static loads and how the structure would interface with steel and concrete bearing surfaces. Upon completion, the platform structure was outfitted with EXTREN® wide flanged beams, plate, angles, DURADEK® grating, SAFRAIL™ handrail and ladder components.
TECHNICAL DATA
Product: Filter Press Platform
Process: Pultrusion
Materials & Sizes:
DURADEK® I-6500 1-1/2" grating
SAFRAIL™ square guardrail and ladder
EXTREN® Structural Shapes:
8" x 1/2", 8" x 3/8", 6" x 3/8" wide flange beams
8" x 3/8" channel
1/2" plate
3", 4" angles
For: Advantic, LLC
User: Industrial Facility
The end user had concerns regarding how mandated downtime would potentially disrupt operations. Advantic provided a single-day installation solution with a three-person crew without hot works permits, compared to a multi-day painted steel solution with a fiveman crew and hot works permits. Handling costs were also minimal due to the heaviest FRP structural component weighing less than 100lbs. and with each component designed to be assembled with a level and standard wrenches. Future maintenance costs associated with painting and coating were also virtually eliminated due to an overall life cost analysis presented by Advantic.