Case Study: FRP Beam used in Vehicular Bridge Superstructure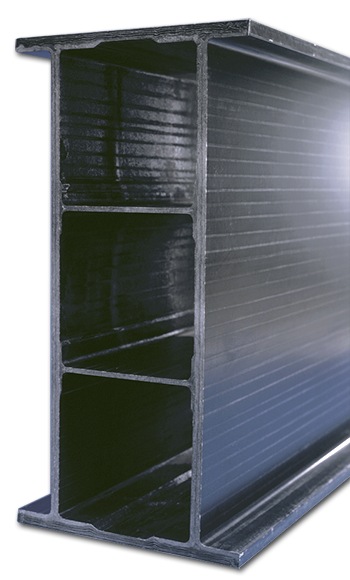 The 38-foot Virginia Department of Transportation (VDOT) bridge, which spans Dickey Creek on Route 601 in Sugar Grove, Virginia, utilizes eight of Strongwell's 36" x 18" EXTREN DWB® beams. The bridge is the first in the world to use this new technology. The bridge superstructure is rated AASHTO HS-20 and is capable of carrying full tractor trailer traffic. The beam is composed of carbon fibers in the top and bottom flanges for increased stiffness and E-glass fibers in the remainder of the beam for strength, torsional resistance and economics. The combination of size and laminate composition provide the strength and stiffness required for bridge designs.
Strongwell's idea for the EXTREN DWB® developed from the knowledge that VDOT and many other departments of transportation were searching for construction materials that would reduce maintenance costs, install quickly, and increase the life span of vehicular bridges. Development of the beam began in 1994 when Strongwell received project funding from the U.S. Department of Commerce's Advanced Technology Program (ATP). Strongwell and its partners at Georgia Tech University and Virginia Tech University developed the profile and pultrusion machine design and simultaneously pushed pultrusion technology to new levels. 1998 marked the production of the first 36" EXTREN DWB® beam.
Strongwell received funding from the Federal Highway Administration's Innovative Bridge Research and Construction program in 1999 to install the beams as part of the new Sugar Grove bridge. The project participants were excited about the opportunity to show that the beam could be a viable alternative to steel or concrete in the construction of vehicular bridges.
TECHNICAL DATA
Product: Bridge Superstructure
Process: Pultrusion
Materials: EXTREN DWB®, carbon/e-glass fibers, reinforced vinyl ester resin
Sizes: 36" x 18" Double web beam
For: Virginia Department of Transportation
Installation of the newly designed bridge began in September 2001. The lightweight beams required smaller concrete abutments, which reduced construction time and the number of days the bridge was closed to traffic. The total installation time for the beams was less than three hours and the entire project was completed ahead of schedule.
The opening of the Sugar Grove bridge shows that VDOT is leading the nation into a new era of construction materials which will reduce the amount of traffic delays, reduce the maintenance costs of its bridges and increase the life span of newly constructed bridges.