Case Study: FRP Outperforms Stainless Steel in the Kitchen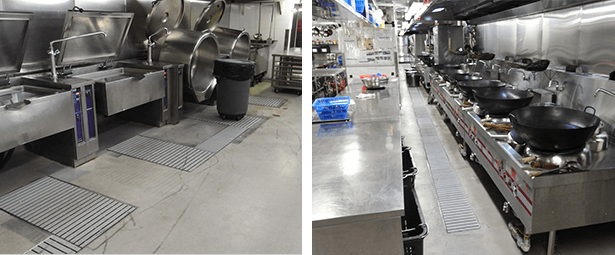 The Hong Kong Convention & Exhibition Center (HKCEC), which sits in the backdrop of the stunning skyline in Victoria Harbor, houses seven restaurants with seating for almost 1,900 people. After prolonged exposure to moisture and intensive kitchen demands, the 316 stainless steel channel covers within the BBQ kitchen required replacement.
HKCEC sought the expertise of Hong Kong-based Strongwell distributor, Bumatech, to provide the best solution for its problem. Bumatech understood the benefits of fiberglass grating and recommended Strongwell's DURAGRID® T-1800 1" pultruded grating.
TECHNICAL DATA
Product: Fiberglass Drainage Channel Covers
Process: Pultrusion
Materials & Sizes: DURAGRID® T-1800 1" fiberglass reinforced vinyl ester grating
For: Bumatech
Mongkok, Hong Kong
User: Hong Kong Convention & Exhibition Center
By selecting DURAGRID® as a replacement over traditional materials, HKCEC solved the maintenance and safety issues caused by its previous stainless steel channel. FRP also provided the advantages of ease of installation and corrosion resistance of FRP, as well as the aesthetic and structural benefits.
Strongwell manufactured the DURAGRID® T-1800 with a special teardrop design, resulting in a high strength standing surface with 0.375" of open space. This design created a hygienic solution in the kitchen as wastewater and food particles would drop directly into the channel without sitting on top of the grating. In addition, the round silica grit that is bonded to the surface of DURAGRID® gave the channel a safe, non-skid surface.