Case Study: FRP Walkway System Helps Revitalize Historic Park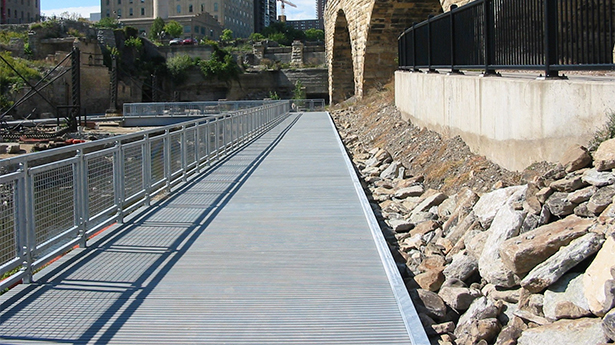 Mill Ruins Park in downtown Minneapolis, Minnesota utilized Strongwell's fiberglass grating on new walkways. The park is the centerpiece of the revitalization of Minneapolis' historic West Side Milling District and is still being further developed with theatre, culture, history and entertainment venues.
TECHNICAL DATA
Product: Fiberglass Walkway System
Process: Pultrusion
Materials: Fiberglass reinforced polyester, gray
Sizes:
DURAGRID® T-1800 1" grating
DURAGRID® T-3300 2" stair treads
For: L.S. Black Construction
User: City of Minneapolis Parks and Recreation - Minneapolis, MN
L. S. Black Construction, the contractor for this project, used T-1800 DURAGRID® 1" grating and T-3300 2" for stair treads. As you can imagine, aesthetics are important to the beautiful area, so FRP grating was the best choice.
The park is listed on the National Register of Historic Places because of the deep history surrounding the mills that once inhabited the area. The park is also prepared for ongoing development of residential and other private and public uses in area, including the Minnesota Historical Society's Mill City Museum.