Case Study: FRP Wins Against High Commodity Prices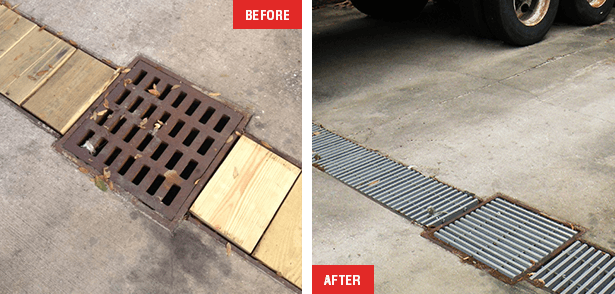 In 2011, a national retailer became a theft target due to the high commodity scrap prices for steel. The issue was theft of steel grating from the drainage systems in the loading zones of the large retail chain. The long fabrication times and high steel prices led to expensive replacement costs and aesthetic deterioration due to water runoff and the varying age of the steel grating. Wood was used as a temporary measure; however the nature of wood eventually led to rot. The retailer's goal was to use as much non-metallic structural products as possible in the drainage system to prevent water and trash buildup while thwarting thieves.
TECHNICAL DATA
Product: Heavy Duty Drainage Covers
Process: Pultrusion
Materials: DURAGRID® fiberglass reinforced grating
Sizes: DURAGRID® HD-5000 1.5" grating
For: McNichols Company
User: A global discount retail chain
Strongwell's DURAGRID® 1.5" HD-5000 pultruded grating was specified in eight installations to ensure prolonged years of maintenance-free service. FRP's high strength, light weight and easy-to-install characteristics ensured the retailer had operational access to its loading docks during installation with minimal downtime.
As steel prices remain high, the heavy duty HD grating will remain a permanent, corrosion-free fixture in this retailer's loading zone while ensuring full drainage capabilities for years to come.