Case Study: Grating Provides Containment System Trench Support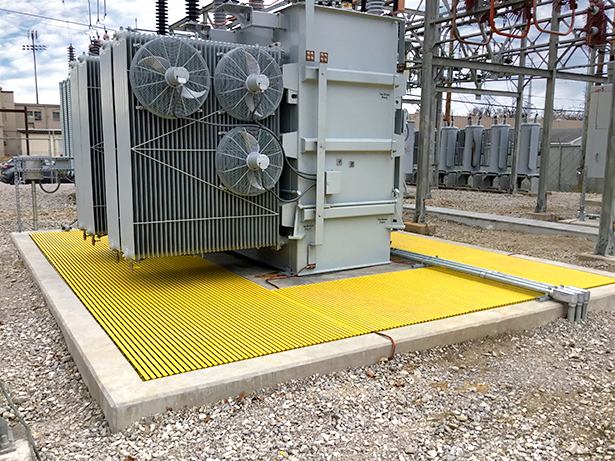 For years, Strongwell has offered secondary containment systems to prevent, control, or mitigate the discharge of hazardous substances into local ecosystems in the event of critical component failures.
Although there are multiple approaches towards spill containment and management, a major utility provider in Indiana built concrete trenches around their individual substation transformers to mitigate any transformer oil leakage in the event of an equipment failure. In addition to using concrete, the electric utility placed DURAGRID® T-3300 grating panels over the trench to provide a safe and durable accessway for transformer maintenance.
TECHNICAL DATA
Product: Transformer Containment Trench Grating
Process: Pultrusion, Fabrication
Materials & Sizes:
DURAGRID® 2" T-3300 Pultruded Grating

For & User: A Major Utility Provider in Indiana
In the event of a spill, the 1/2" of open space between grating bars allows residual oil to quickly drain into the containment area. The discharged oil could also be removed by lifting sections of the lightweight panels (3.9 lbs. per sq ft) without the introduction of heavy-duty lifting machinery into the fenced-in complex.
The nonconductive nature of the pultruded grating and its bright yellow color chosen for this application also serve as added safety features around the electrical substation.
This is the third installation of DURAGRID® pultruded grating with this energy provider. The end user has been pleased with the service and overall performance of the material and will continue to install DURAGRID® pultruded grating on both new and retrofits of old substation containment systems.