Case Study: Light Weight FRP Platforms Used on Digester Dome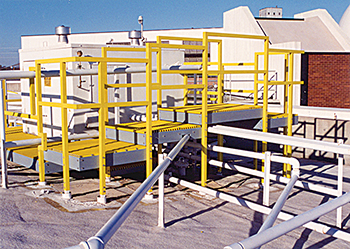 How to construct level working platforms and walkways on top of a digester dome was the rather unique problem that faced the Des Moines Municipal Wastewater Treatment Plant. Frost was causing the sloping surfaces of six digester lids to become slippery and was creating a safety problem for the workers.
A series of several staggered, stepped platforms were designed to get to the compressor house and gas piping that have to be maintained on top of the dome. The stepped platforms fabricated of DURADEK® I-6000 and SAFRAIL™ handrail provided a level walking and working surface on the curved dome.
TECHNICAL DATA
Product: Worker Platforms/Walkways
Process: Pultrusion, Fiberglass Fabrication
Materials:
DURADEK® fiberglass reinforced vinyl ester grating, fire retardant
SAFRAIL™ fiberglass renforced vinyl ester handrail
Sizes:
DURADEK® I-6000 1-1/2" grating (currently DURAGRID®)
SAFRAIL™ 2" x .156" Square tube
Designed/Fabricated by: Composite Structures, Inc.
For: Des Moines Municipal Wastewater Treatment Plant
The anti-skid grit surface of the DURADEK® grating made a safe working surface possible with frost, rain or snow conditions. The handrail posts extended down past the deck to the top of the curved dome where they were bonded to the dome surface. This provides structural support for the deck and increases the stability of the entire assembly.
Since the digesters were active during the installation, the platforms couldn't be welded into place. A special installation base was designed using a methacrylate system to secure the structural members to the tank.