Case Study: Lightweight Fiberglass Shelters Installed at Indiana Power Facility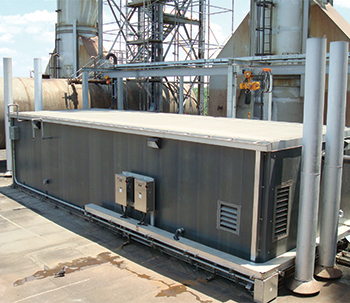 Fortune 500 company, Duke Energy is one of the largest electric power companies in the United States. The company generates electricity in locations ranging from the Midwest to the Carolinas.
The company needed to construct new monitoring shelters to track flue gas emissions produced at the Gallagher Generating Station in New Albany, Indiana. The new buildings had to be lightweight to be assembled on top of existing structures. Strongwell's DURASHIELD® Foam Core Building Panels and EXTREN® fiberglass structural shapes were the selected materials used to construct the shelters.
TECHNICAL DATA
Product: Fiberglass Shelters
Process: Pultrusion, Fiberglass Fabrication
Materials:
DURASHIELD® Foam core building panels, polyester
EXTREN® Series 525 fiberglass reinforced polyester, fire retardant
Sizes: DURASHIELD® panels:

EXTREN® structural shapes:
3" x 3/8" angle 4" x 3/8" angle
6" x 1/4" angle 3-1/2" x 3/16" channel
6" x 1/4" channel 10" x 1/2" channel
2" x 5/32" square tube
4" x 1/4" square tube
For: Duke Energy
User: Gallagher Generating Station, New Albany, IN
DURASHIELD® is Strongwell's tongue-and-groove fiberglass pultruded panel comprised of a pultruded skin over a foam core. DURASHIELD® panels are designed to be used as walls, roofs and covers. DURASHIELD® is transparent to electromagnetic emissions, low in conductivity and flame retardant, making the building panels a favorable choice when fabricating enclosures containing electrical equipment.
EXTREN®, Strongwell's proprietary line of fiber glass structural shapes and plate, provided the structural support, corner connections and door framing.
EXTREN® is available in more than 100 standard shapes and is also lightweight and extremely strong.
A total of five fiberglass shelters were constructed for Duke Energy.