Case Study: Pultruded Fiberglass Baffles the Splash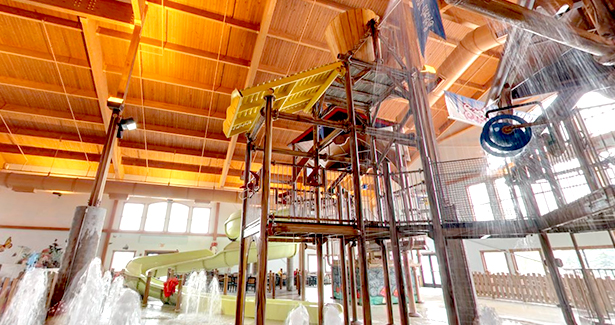 As the hospitality industry continues to grow, so does the aquatic waterparks sector, due to the demand of aquatic play areas.
Currently, Michigan's largest indoor waterpark measures 50,000 square feet and contains waterslides, raft rides, a lazy river action river, sports pools, wading pools, and other assorted features. Within these features lies an area called "Splash Village." The main feature within this area of the waterpark is a dumping bucket, capable of dumping almost 400 gallons every 10 minutes. To complement this feature, the operators needed a durable trough, which was corrosion resistant yet durable enough to withstand the impact of the water dump and generously dispersing splashes to eager patrons.
TECHNICAL DATA
Product: Water Dispersing Trough
Process: Pultrusion
Materials & Sizes:
Baffle Panel: 24" wide
User: Michigan's largest indoor waterpark
The park, with the aid of Strongwell's Corrosion Resistance Guide and its portfolio of detailed aquatic fiberglass case studies, decided that using inverted baffle wall panels for the trough roof was a great way to eliminate the use of metals in this type of application. The shape was pultruded with a polyester resin with an ASTM E-84 rating. Baffle walls were originally designed for underwater flow control applications in aeration chambers, contact chambers, retention basins, and water process applications. This project shows a very creative use for the baffle panel, but also one that takes advantage of the benefits of its design and materials of construction.
Overall, the end user has been pleased with the product, ease of installation, and the projected decades' worth of performance from pultruded fiberglass baffle panels.