Case Study: Raised Floor Provides Equipment Access in Dewatering Building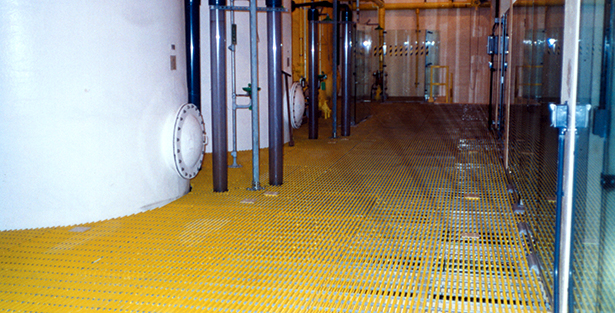 The Milwaukee South Shore - Phase II Filter Press Dewatering Building, which contains a Strongwell fiberglass raised floor system, is part of a huge water and wastewater remodification program in Milwaukee, Wisconsin.
Crane Engineering Sales, Inc. (DURADEK® distributor in Kimberly, Wisconsin) worked with the Chatfield Location and the Milwaukee Metro Sewage District on the plans for the raised floor system used on this project.
TECHNICAL DATA
Product: Fiberglass Raised Floor
Process: Pultrusion, Fiberglass Fabrication
Materials: EXTREN® Series 625 fiberglass reinforced vinyl ester, fire retardant
DURADEK® I-6000 1-1/2" fiberglass reinforced vinyl ester grating, yellow (currently DURAGRID®)
SAFRAIL™ fiberglass reinforced vinyl ester handrail
Sizes: 40' x 80' overall raised floor system
For: Crane Engineering Sales, Inc.
User: Milwaukee Metropolitan Sewage District
The erection drawings, furnished by the Chatfield Location, included the structural engineering for over 145 penetrations through this raised floor. The grating was custom made to fit around each penetration including five (5) large acid tanks, piping of all sizes and concrete pads for columns and equipment.
Tom Hanesgen, Superintendent for C. D. Smith Construction said this was the first time he had installed fiberglass structurals and grating. He said, "I definitely would recommend that other general contractors specify and install FRP from Strongwell. The product was lightweight so it wasn't necessary to use heavy lifting equipment to install the raised floor system - and that means a big savings for a general contractor."
The Milwaukee Metropolitan Sewage District was very pleased with the ease of installation and quality of the fiberglass materials.