Bridge Strengthening: Steel or Fiberglass?
The deck of a bridge is the surface that enables traffic to cross the structure – and it is one of few unifying components linking the radically different bridge designs spanning obstacles across the world.
Bridge decks are suspended from high-tension cables, supported by steel section beams, cantilevered from rigid elements, and more, with multiple materials employed to ensure the superstructure is strong enough to perform its designated function. Conventional bridge strengthening methods have relied on structural steels to support the superstructure, but fiberglass has emerged as a cost-effective alternative to traditional infrastructural materials.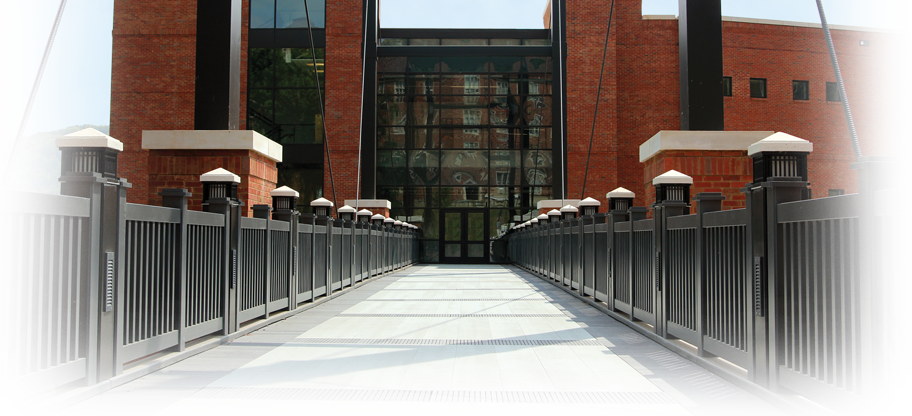 This article will explore the benefits of using fiberglass over structural steels for bridge strengthening applications:
Bridge Strengthening: The Problems with Steel
The cost of steel has climbed incrementally in recent years, despite oversupply from certain sectors of the global market. Associated tariffs and raised labor charges have driven up the cost of structural steels, making maintenance jobs such as bridge strengthening more expensive. Despite the raised upkeep of steel supported bridges, infrastructural maintenance cannot be neglected for the sake of budgeting – particularly where bridges are subject to corrosive elements. Freshwater, saltwater, and acidic rain can all reduce the structural integrity of steel bridge strengthening elements, contributing to recursive and costly maintenance processes.
Fabricating steel bridge strengthening elements is not only costly, but inconvenient and invasive. Extended installation periods can disrupt traffic, with varied commercial or pedestrian impacts depending on the function of the bridge.
Fiberglass Bridge Strengthening Elements
Fiberglass has been used as a structural alternative to conventional material for decades, and is finding increasing application in bridge strengthening and steel element replacement. This is due to a litany of benefits, from its lightweight mechanical structure to its exceptional corrosion resistant properties.
Strongwell has championed the potential of fiberglass to improve civil infrastructure, establishing a broad range of fiberglass bridge strengthening components, from superstructure decking to guard rails. These include:
FRP bridge girders: EXTREN DWB® is a lightweight, high strength bridge strengthening double web beam product which has been used to replace corroded steel sections in existing beam bridges, subsequently improving its weight capacity by 10-tons;
Stay-in-place concrete decking: GRIDFORMTM is a bridge deck system comprising a dual layer of pultruded fiberglass grating and an adhesively-bonded plate, for added stability and improved resistances;
Fiberglass planks: SAFPLANK® and STRONGDEKTM are flanged FRP decking products for pedestrian bridge strengthening. They are designed to interlock and create a single supported surface with little corrosion resistance and a seamless aesthetic;
Heavy-duty FRP panels: COMPSOLITE
Fiberglass grating: DURADEK® and DURAGRID® are pultruded FRP grating products with customizable spaced bars, suitable for pedestrian bridge strengthening applications;
Structural FRP support: SAFSTRIP® is a mechanically fastened strip attached to the underside of a bridge deck and its structural beams, providing support by increasing the flexural capacity of bridge strengthening beams and struts.
Fiberglass Bridge Strengthening from Strongwell
Strongwell is a world-leading manufacturer of structural fiberglass products, supplying FRP solutions to manufacturers and engineers since 1956. Our bridge strengthening elements have been applied to numerous projects across the world, with increased mechanical capacities enabling FRP to gradually replace steel elements in many crucial infrastructural applications. If you would like any more information, please do not hesitate to contact us.