Crucial Ways to Customize your Handrail Systems
Handrail systems are manufactured for a wide variety of applications around the world. Not only that, but they can also be customized in several ways to meet the customers' requirements. This blog post will outline some of the crucial ways to customize handrail systems and the benefits thereof.
Customizing your Handrail Systems
Regardless of their application, many handrail systems allow for some forms of customization to ensure they suit the needs and preferences of customers. At Strongwell, our SAFRAILTM industrial fiberglass handrails are typically used in corrosive environments, such as chemical treatment plants and for structures that might face salt air corrosion. As a result, many of the customization options support the safety aspects of those using the rails.
Customization Options
Whether customization of a railing system is a requirement for your application or a 'want-to-have' for aesthetic reasons, there are several ways you can do so.
Colors: Although many handrail systems are produced in a 'safety' yellow color, many other colors are available. Some customers prefer black as they believe it looks like wrought iron, but white is often used near water systems to continue an aesthetic 'beach' look.
Resin Systems: The standard resin system for many handrails is those made with polyester. However, in many applications, alternative resin systems are available upon request.
Shapes: It is possible to choose handrail and ladder systems in round or square rails. The profile you choose may depend on your application or personal preference. Round handrails are easy to grip and will be produced without any sharp edges and are often used in applications where dust and debris need to be minimal. Square handrails are the most common as they are economical and easily fabricated in the field. Additionally, the handrail pieces are bonded with internal fiberglass connectors so that no parts are visible on the outside.
UV Coating: Although it is not a requirement, it is often recommended that handrail systems are finished with an industrial-grade coating that provides additional protection against fading. When purchasing SAFRAILTM handrail systems with Strongwell, UV coating is an optional add-on and it must be requested when making an order.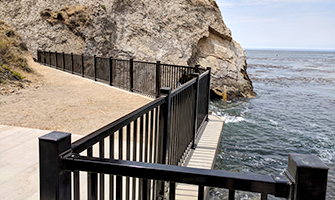 Strongwell's SAFRAILTM Handrail Systems
Our team of experts have 40 years of experience manufacturing and designing fiberglass handrail systems, and they have led us to design our SAFRAILTM  systems. Aside from the customization options presented above, our handrail systems provide many benefits.
Cost-Effective: Fiberglass materials require less maintenance, and our railing systems are easy to assemble. Both of these benefits result in fewer labor and long-term maintenance costs and also reduce the need for unplanned downtime.
Easy Installation: Our SAFRAILTM handrail systems are easy to install as they are produced in lightweight sections. Our customers have the option to have sections shipped to their site or to be assembled on-site and then installed.
Low Maintenance: As mentioned, our railing systems require almost no maintenance and is stronger than the average steel railing systems or aluminum railings.
Safety Features: Our SAFRAILTM systems are produced in safety yellow. It meets OSHA safety standards with high strength properties and low electrical conductivity.
If you would like more details on how to customize your handrail systems or are interested in obtaining a quote, please don't hesitate to contact us.