Fiberglass Solutions for the Coastal Structure Market
Structures that are built by the coast are subject to some of the most adverse weather conditions, and they must be able to survive everything that they encounter. This is why fiberglass is becoming a popular solution for building various coastal structures.
Fiberglass is a very strong material and has high tension and compression properties. Generally, fiberglass weighs less than the same strength of steel or wood and requires less maintenance. It also exhibits excellent resistance against corrosion, which is essential when exposed to saltwater environments.
This blog post will outline some of the fiberglass solutions available from Strongwell for the coastal structure market.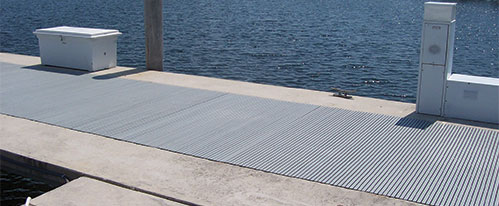 Handrail Systems
Handrail systems are an important safety consideration for coastal environments, as they are often used to provide a protective barrier between pedestrians and the sea. Architectural fiberglass handrail systems are extremely durable, produced from pultruded fiberglass components and molded thermoplastic connectors.
These handrails have fantastic corrosion resistance, ensuring they require minimal maintenance despite exposure to salt water and high winds.
Decking
Decking is used on the coast to provide a smooth walkway and for boating docks. Decking from Strongwell is rot and corrosion resistant, reducing the amount of maintenance required. It's also very easy to install.
Unlike metal or wood decking, that can become extremely hot in high temperatures, fiberglass decking has very low thermal conductivity, making it safe for bare feet.
Structural Shapes
There are various structures that use steel or wooden structural shapes for reinforcement. Strongwell produces a fiberglass solution to structural reinforcement, and Strongwell structural shapes are available in various grades for different application requirements.
These structural shapes can be used to build splash walls, to protect humans and the surrounding environment from strong waves, bridge decks, and walkways.
Fiberglass structural components require a minimal amount of maintenance, helping to reduce labor and costs once the structure is built.
Fiberglass Solutions from Strongwell
Strongwell has developed and manufactured a range of fiberglass solutions that are ideal for use in the coastal structure market. Strongwell products provide a low-maintenance and long-lasting alternative to other structural materials often used in coastal environments.
If you would like any more information about our fiberglass solutions for the coastal structure market, please contact Strongwell.