Introducing Fiberglass Structural Shapes into Industrial Rooftops
Created with a tightly woven, cross-hatched web of internal correlating corridors and compartments, Strongwell's fiberglass structural shapes and other FRP fabrications outperform the closest competitor in every imaginable way. Owing to its preferable properties of customization, our in-house manufactured fiberglass structural shape materials can be fabricated to fit almost any size or specification of application.
As a wholly stronger more stable composite that can withstand greater amounts of pressure, wear & tear, and attempts to damage or corrode, fiberglass is the long-term structural solution to our industrial and construction customers' needs.
Let's take a closer look at how Strongwell's expertly designed and standardized fiberglass structural shapes can be adapted for the comprehensive construction of industrial rooftops.
The Switch from Steel to Fiberglass
In recent years, fiberglass structural shapes and parts have been replacing traditional steel systems that had been used in the construction of worldwide infrastructure. Strongwell's shatterproof fiberglass structures not only possess greater properties of flexibility but they sacrifice little in the characteristic categories of strength and solidity.
Strongwell-Specific Rooftop Solutions
As providers of all manner of construction site structures, Strongwell's fiberglass structural shapes are manufactured in a wide variety of shapes, sizes and specifications. Our industrial rooftop solutions can be a well-engineered example highlighting FRP's capabilities.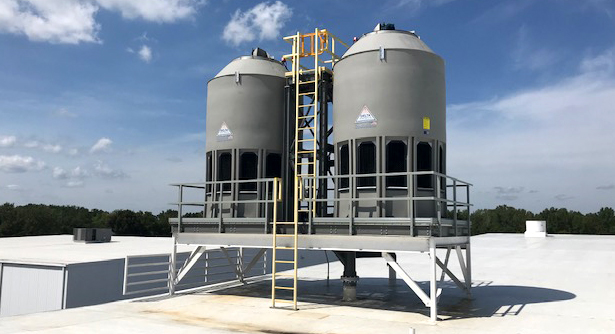 The above image is an example of a rooftop-contained chiller, which provided a sizeable supply of hot and cold water comes into constant contact with the rooftop covering structure. Previously used steel composites were prone to rust and deterioration. There are two major reasons engineers regularly specify our fiberglass structural shapes for their industrial rooftop designs. A material that is lightweight and resistant to a multitude of corrosive materials and substances is an operational must.
DURADEK® I-6500 Pultruded Grating
For added traction, even on damp or slick surfaces, our anti-slip, top-of-the-line pultruded grating walkway systems provide the safest way to maneuver within the immediate surrounding area of the rooftops. Unparalleled levels of UV and corrosion resistance make our pultruded platforms the logical long-term choice for anyone hoping to avoid regular maintenance costs.
EXTREN® Series 525 Structural Shapes
Our innovative fiberglass structural shapes comprise all the collaborative parts required to construct our hi-tech, highly durable rooftop structural members. With FRP channels, plates, beams, and equal leg angles, the customer is outfitted with all the structural components needed to design and construct their industrial rooftops.
To hear about our full range of fiberglass structural shapes and solutions and to see how we could help you and your particular application, visit our website or fill out a customer inquiry form on our contacts page.