Four Takeaways from our Local Robotics Sponsorship
As a global leader of pultrusion and material sciences, Strongwell recently had the opportunity to sponsor a regional local Robotics competition, along with Lowe's and the Bristol Chamber of Commerce, at Fairmount Elementary, in Bristol, TN.
Comprised of a total of nineteen elementary and middle school students, teams competed in a friendly, energetic environment. Team leaders, students, families, teachers, referees, volunteers, and an emcee were all packed into a gymnasium to support the field of robotic competition.
Using VEX IQ Challenge Next Level technology, students had to compete in 4-foot by 8-foot rectangular field arenas. In each arena, two teams with separate robots earned points by competing in teamwork and independent challenges.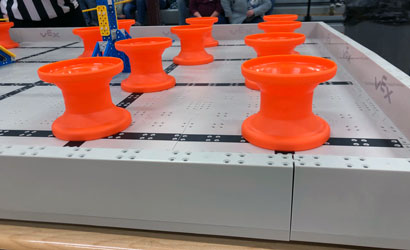 Our perspective about these types of investments and its future shifted as quickly as the spur gears on the robots. Here are our four takeaways from the event:
Programming Introductions
Every machine within a manufacturer requires some level of programming. In most instances, students are detracted from programming due to its complexity. However, robotics programs such as these offer a fun and great gateway to approach this abstract subject.
Future Adoptions of Technology
Students are being exposed to and having to quickly adopt a myriad of technology outlets, most of them requiring experimentation with both hardware and software in both learning and extracurricular activities. This kind of exposure allows them to bridge the paths between innovator and creator.
Transforming Frustration into Innovation
These VEX robots are difficult to build (think advanced Legos) and have to be programmed. For most of these students, this was their first exposure to robotics, programming, and a public stage. Many of these students stepped way out of their comfort zone to adapt. We were also impressed by the ability of these students to change strategies on the fly based upon competition.
Promoting Inclusivity
There were teams and judges which came from every walk of life. What was so interesting to us was that the competition required teammates to switch up control of the robot within 30 seconds of each one minute competition. Each teammate had to stack hubs, move hubs, master parking, or hang their robot from the hanging bar. Teammates were cheering and coaching each other.
This program was initially created in effort to expose students to more STEM skills through hands-on, student-centered learning. Consequentially, it created an outlet to foster development of teamwork, critical thinking, project management, and communications skills. More students and families should take advantage of these events and programs within schools.
The competition was driven by robotics, but we saw some great future freight handlers, material handlers, logistics planners, and leaders. Many thanks to teachers who made this possible and Lori Givney (Robotics Event Coordinator) who asked us to drop in and learn about the VEX IQ Robots Challenge program. Also, good luck to the two teams from Bristol Tennessee City Schools who recently advanced to the state finals.