How Can I Build a Corrosion Resistant Structure?
Corrosion resistant structures are highly beneficial in the building industry because corrosion degrades structures. Corrosion can weaken the structure, minimize the bonding strength of materials, reduce ductility and the overall capacity of the buildings.
This article will outline some of the ways to build a corrosion resistant structure and the benefits of a range of materials.
Corrosion Resistant Building Materials
Aluminum
Aluminum is one notable material that forms a corrosion-resistant coating through the process of passivation. Aluminum has a good balance of durability and price, making it a good choice for commercial applications. However, aluminum does not have a good strength-to-weight ratio and is not as resistant to corrosion as other materials such as fiberglass.
Stainless Steel
Stainless steel is often more expensive than aluminum, however, it is far superior when the goal is to create a corrosion-resistant structure. However, stainless steel is more expensive to install and maintain than materials such as FRP.
FRP
FRP is a material that reinforces high-strength fiberglass with a protective polymer. When combined, these materials form a premium composite that can be constructed into a range of corrosion resistant building materials, as noted below.
FRP outperforms wood and concrete for general wear and tear as well as corrosion resistance and has much lower maintenance costs than other corrosion-resistant building materials such as stainless steel and aluminum.
Elements of a Corrosion-Resistant Structure
Fiberglass building panels are one economical way of building a corrosion-resistant structure. FRP panels are lighter than steel or concrete and are easy to assemble, without sacrificing aesthetics.
Fiberglass grating can also be used to form large, corrosion-resistant structures such as platforms used to gain access to large outdoor storage tanks. The non-corrosive and lightweight attributes of FRP allow corrosion-resistant structures like this to be built by hand, without needing to lift heavy equipment.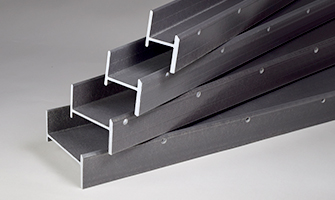 Using FRP cladding supports such as STRONGIRT® from Strongwell is a method to provide continuous insulation in corrosion-resistant structures. This system has excellent thermal efficiency, strength, and resistance to high wind loads.
Structural shapes such as EXTREN® from Strongwell offer significant advantages over metals and wood when it comes to corrosion-resistant construction. Unlike timber, these structural shapes do not rot or decay and will not be weakened by insect attack.
Corrosion-Resistant Structures Using Pultrusion
Pultrusion is a common method of producing FRP that starts with braided or woven strands of fiber. These fibers are pulled into a resin bath, followed by heat curing into long profiles which can then be cut to the desired length.
Not only does pultrusion result in corrosion-resistant materials, but it also produces very little material waste, meaning it is exceptionally eco-friendly and affordable.
Want to Know More?
If you would like to find out more about how FRP can help to build corrosion-resistant structures, get in touch with the team of experts at Strongwell today.