No Bridge is Too Far for FRP
Bridge design still has roots in how to get from point A to point B safely when there is a natural obstacle between the two. However, like many engineering projects nowadays, practicality is just one aspect underlying bridge construction. They still form an essential part of rural and urban infrastructure, but bridges are expected to do more than simply create a shortcut between two places. Consider that San Francisco's iconic Golden Gate Bridge receives an average of 27,000 visitors every day, earning as much as $152 million in revenue from toll fees alone.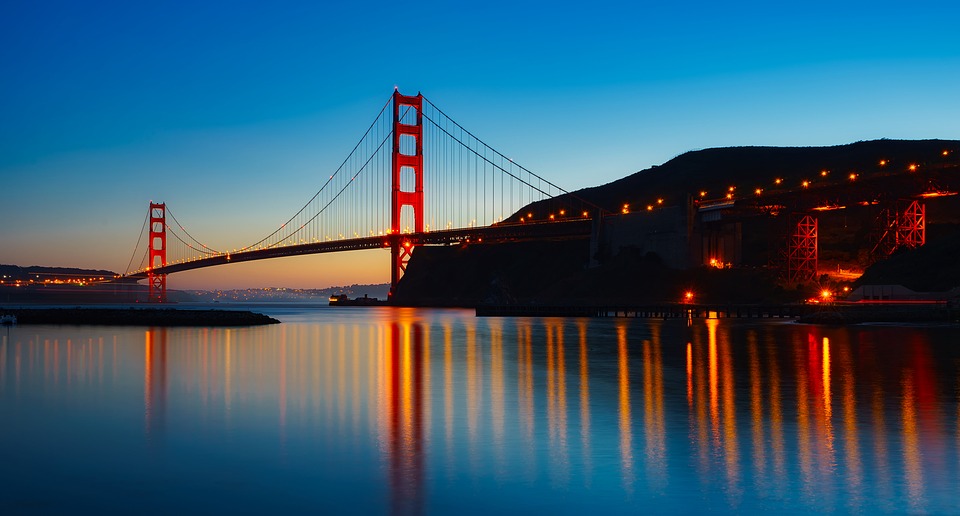 The challenge of modern bridge engineering is achieving a healthy medium between conflicting KPIs (key performance indicators). Above all, they must be structurally-efficient, yet there is increasing demand for bridges to not only be aesthetically-pleasing but aesthetically-appropriate. Traditional materials like timber and structural steel often struggle to meet these requirements: but fiber-reinforced polymers (FRP) consistently exceed expectations.
Bridge Design Types & FRP Compatibility
Numerous bridge types exist but they tend to fall into one of three overarching categories: arch; beam; and suspension. Each one responds to the internal forces of bending, compression, tension, torsion, and sheer in different ways. FRP has proven compatible with practically every bridge type available.
Arch Bridges: An arch bridge relies on abutments to support the weight of the superstructure and distribute loading forces from traffic, for example. These are among the oldest and most versatile bridge types in existence, immortalized by the Roman aqueduct.
Beam Bridges: Beam bridges are the simplest of bridge designs, using a straight horizontal deck placed across abutments. Depending on the length of the bridge deck, the superstructure may be supported by additional piers.
Suspension Bridges: Suspension bridges are among the most intricate designs available, using vertical suspenders and cables to support the weight of the load-bearing deck.
FRP Arch Bridges
While FRP has been used to supplement bridge design for decades (railing, walkways, etc.) the first arch bridges constructed primarily of FRP composite materials have only recently entered international infrastructures. This is due to the challenge of constructing a load-bearing arch without concrete or structural steels.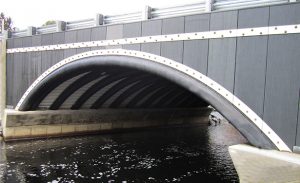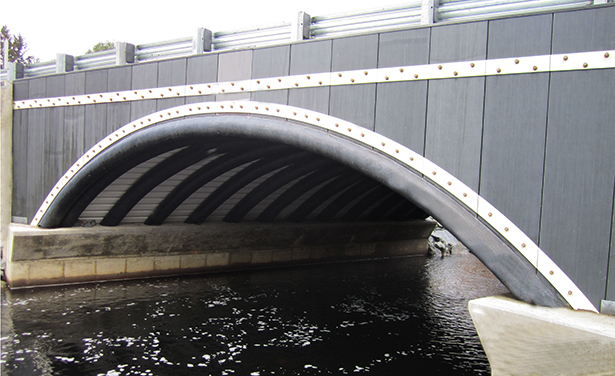 In association with Advanced Infrastructure Technologies (AIT), Strongwell has assisted in the design and implementation of FRP composite systems for both single- and multi-span bridges. Even the soil-retaining headwalls are fabricated from COMPSOLITE® panels, while the permanent framework is fabricated from cast-in-place FRP tubes that offer similar structural performance to steel rebar with infinitely improved corrosion-resistant properties.
FRP Beam Bridges
More intricate designs have largely superseded the traditional beam bridge, but the cost and performance benefits of FRP have renewed interest in simpler bridging systems in many markets. Strongwell was responsible for replacing a 36" long wooden beam bridge at the Sea Life Park in Waimanalo, Hawaii, which had rotten due to continuous exposure to saltwater. We refurbished the bridges with EXTREN® Series 525 structural shapes to form the load-bearing gangway. Managing director of Sea World claimed:
"I anticipate that we will replace the wood decks several times before the fiberglass ever needs replacing."
FRP Suspension Bridges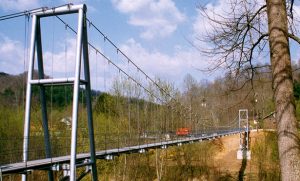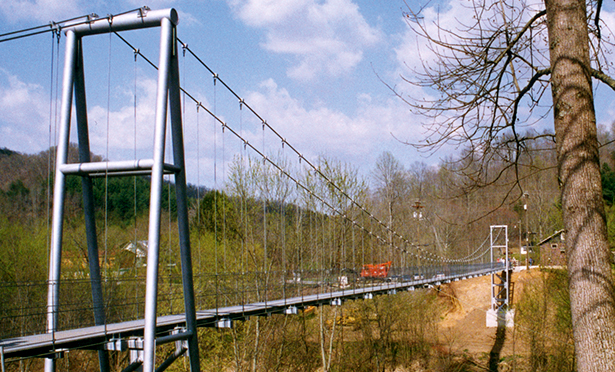 Perhaps the most striking bridge type, even suspension bridges have been engineered using a majority of FRP composite materials. In Johnson County, Kentucky, there is a footbridge that spans 420-foot over the Sandy River in Johnson County. What makes this bridge unique is that the bridge deck and stringers are comprised entirely of FRP. DURAGRID® grating was used for the deck floor while EXTREN® Series 525 shapes formed the underlying stringer supports. This makes it the world's longest FRP suspension bridge.
At Strongwell, we have assisted in construction and renovation projects for numerous bridge types, applying our unmatched knowledge in FRP component design to resolve distinct customer challenges and requirements. It is our belief that composite materials can reliably outperform conventional products in bridge design for all chief KPIs. If you would like to learn more explore some of our bridge component case studies, or contact a member of the Strongwell team directly.
[Source: 
The Press Democrat
]