Retiring with 73 Years of Combined Experience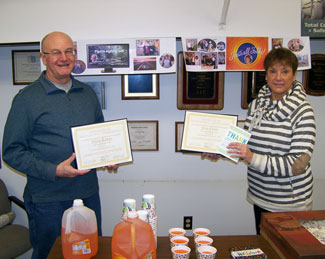 For over 60 years, Strongwell has been the world's manufacturing leader of pultruded fiberglass shapes. With four facilities in North America, its diverse and profitable history has translated to the retirement of many long-term employees from each of its facilities.
Recently, two employees from Strongwell's Chatfield facility were thrown a retirement party, celebrating their combined 73 years of combined manufacturing experience and commitment to the company!
Paul Rath served as Chatfield's Technology Integrator. For the past 40 years, he has been part of the cutting edge Information Technology/Systems team at Strongwell. Upon retirement, he immediately quenched his road warrior thirst by traveling out west.
Julie Lane has been an Administrative Assistant for the Minnesota Operations team for the past 33 years. Her energy and infectious optimism will be dearly missed. Her plans in retirement include having fun and relaxing!