Square Vs. Rounded Industrial Railings: Which is Right for Your Facility?
Industrial railings are a key safety feature of many commercial facilities, used in stair rails, guardrails and platform or walkway handrails. Fall-related accidents are the highest injury-causing accidents in industrial workplaces, however, these injuries can be lessened by mitigating the risks in hazardous workplaces. Guardrails and handrails are extremely important in decreasing the risk of these accidents.
Benefits of SAFRAIL™
At Strongwell, we produce industrial fiberglass handrails which are used for commercial stair rails, platforms and walkway handrails and guardrails. These SAFRAIL™ systems have been created from Strongwell's pultruded fiberglass components with molded thermoplastic connectors.
These industrial railing systems are well-suited to corrosive environments such as environments in industrial, chemical and wastewater treatment plants in addition to commercial structures which are subject to urban and salt air corrosion.
SAFRAIL™ industrial railings are easy to assemble and lightweight. They can be shipped pre-assembled in large sections for job site delivery they can be fabricated onsite with standard tools. All internal connections fit flush which creates a streamlined appearance and means that continuous handrail systems around circular tanks can be constructed.
These industrial railings are highly durable, lasting significantly longer than aluminum or steel railings and they need very little maintenance, meaning they are extremely cost effective, even after initial installation.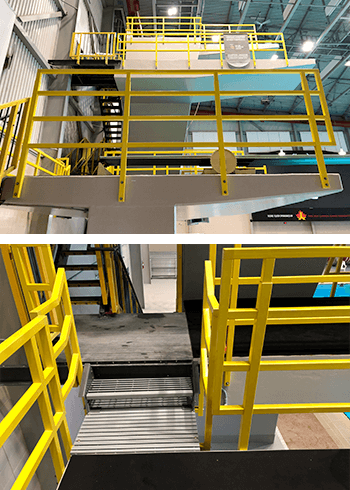 Square Industrial Railings
Square fiberglass handrails are well-suited for frequently-used, high traffic areas that require a handrail. These industrial railings meet the OSHA requirements for strength with a 2:1 factor of safety as well as a 6-foot maximum space between posts. The fiberglass connectors are internally bonded which means there are no visible rivets or metal parts. Additionally, the handrail system additionally houses a UV inhibitor meaning it is less likely to degrade under ultraviolet rays.
The square handrail industrial railings are the most economical and easy to set up in the field and as such they are the most commonly-used system.
Round Industrial Railings
Round fiberglass handrails also work well in high-traffic areas where handrails are needed. The round shape of the rails are extremely easy to grip and 90° molded corners mean that there are no sharp edges. These industrial railings have a 5-foot maximum post spacing and also have the benefits of UV degradation and corrosion. Round handrails are the optimum choice for food and agricultural environments as they accumulate very little debris and dust.
Industrial Railings from Strongwell
At Strongwell, we offer many different ways to customize industrial railings including shape, color, and size. If you would like to know more, please contact us today.