Strongwell Employee Adopts Blue Collar Gold Standard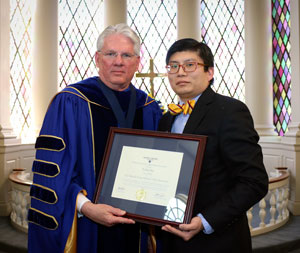 For almost two decades, Emory and Henry College has recognized exemplary individuals at its Founder's Day celebration. This year, Tekai Shu (Social Media & Business Development Manager) was bestowed the A.L. Mitchell Outstanding Young Alumnus Award by the college. This award has been presented for the past sixteen years to a graduate who, "exemplifies a commitment to humanity, sacrifice, service and/or creativity." The recipient also has to "demonstrate a sustained record of excellence in a professional or volunteer capacity within the first fifteen years after graduation."
Upon receipt of this award, Tekai noted that the guest speaker's theme of "Carefully Construct More" message resonated with him as all of his professional and civic accomplishments have only been possible with the support and influence from his coworkers, family and friends. He accredited success to the manufacturing mantra of continuous improvement through continuous learning with others, while believing in the model of servant leadership instilled in him from the "blue collar, gold standard" education received while at Emory and Henry College.
The A.L. Mitchell Outstanding Young Alumnus Award is only one in a long line of recognition for Tekai for his hard work and volunteerism. Tekai is involved in numerous charitable organizations and has previously received the United Way of Bristol's Volunteer of the Year Award, the Leadership Service Award from the Bristol Chamber of Commerce and many other nods for his acts of service.
For more information on the message and Tekai's award click here.