Case Study: Clock Faces Cellular Needs with FRP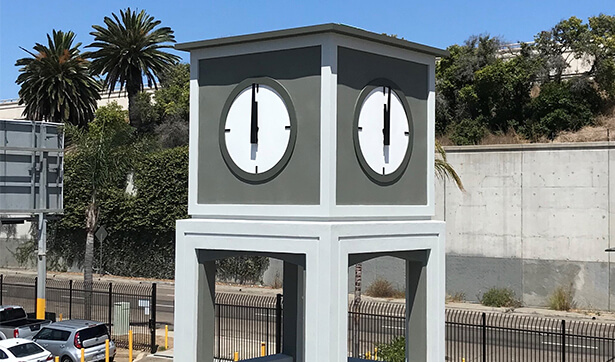 TECHNICAL DATA
Product: Cellular Antenna Concealment Clock Tower
Process: Pultrusion, Fabrication
Materials & Sizes:
EXTREN® Structural Shapes:
- Square Tube: 4"
- Angle: 4"
- Plate: 1/8"
For: Porter Concealment
User: Southern California Cellular Service Provider
There was recently a need for an aesthetically-pleasing structure to encapsulate several cellular antennas at a location close to the San Diego International Airport, off Interstate 5, near the southern tip of California. In addition to blending in with the current city sightlines, the structure had to adhere to the material and design standards of the city's zoning ordinances.
Porter Concealment was hired to accomplish this job due to their extensive experience with the fabrication of composites for architectural and structural applications. The team at Porter channeled their creativity and past experience to design and prefabricate a functioning clock tower, which also conceals the cellular antennas. The four-sided structure was comprised of LARR-approved materials, including: EXTREN® 1/8" plate, 4" tube, and 4" inch angle.
Strongwell's LARR approval grants designers, engineers, and fabricators opportunities to use Strongwell products in cellular enclosure or screening applications with confidence the materials will perform as designed and without unnecessary electromagnetic, radio, or cellular interference.
Both the fabricator and end user were pleased with the overall procurement, design, fabrication, and installation process. The structure is expected to provide many years of useful service to the city and its residents.