Case Study: Fiberglass Support Self-Reflective Art Installation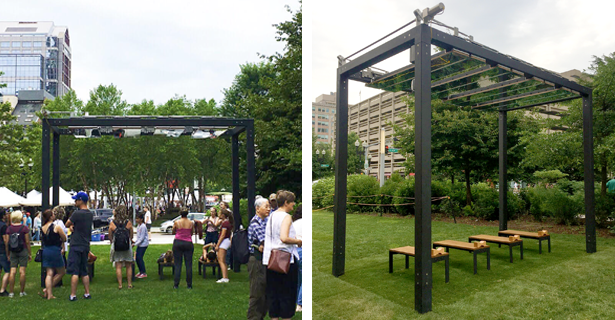 Nine and Two Thirds, a fabricator in Rhode Island, recently completed a temporary modern art project using Strongwell's fiber reinforced plastics. The project, titled "Temple of Mnemon," was a concept designed and imagined by Anne Lilly. The kinetic artist defines "mnemon" as a measurement of memory. Upon entry into the temple, that unit of memory is measured through self-reflection. An individual lies down on one of the benches while the structure's eight moving mirrors slide back and forth to create voids in the view of both ground and sky.
TECHNICAL DATA
Product: Outdoor Art Installation Structure
Process: Pultrusion
Materials & Sizes: EXTREN® Series 525 Structural Shapes:
4" x 3/8" square tube
6" x 3/8" square tube
3" x 3" x 3/8" angle
For: Nine and Two Thirds
User: Public
The interactive structure was constructed with tempered glass mirrors, composites, aluminum, steel, a motor and controller, and hardwood benches.
Strongwell's EXTREN® 525 Series angle, 4", and 6" tubes served as the structural segments which were mechanically joined by steel corner connectors. The structure had to be lightweight for delivery and installation, yet durable enough to resist weather conditions, as it was a dedicated outdoor exhibition.
The structure was funded by the Rose Kennedy Greenway Conservancy, and erected and installed for public view on the Greenway, located in Central Boston, Massachusetts. The greenway is a continuous 17-acre rooftop garden, which follows the path of the demolished John F. Fitzgerald Expressway.
The fabricator had previous experience using FRP and was pleased with the service, delivery, and fabrication of the completed products.