Case Study: FRP Inserted into the Heart of Cincinnati's Riverfront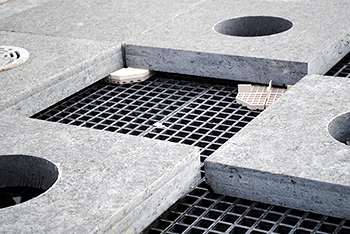 In 2012, the City of Cincinnati needed a permanent, low-maintenance and lightweight support system for the Walnut Street Fountain. The interactive fountain is one of the multiple outdoor attractions which make up Cincinnati's Riverfront Park. The forty-five acre park is located next to the Great American Ball Park, home of the Cincinnati Reds. Due to the fountain's location in a highly congested area, the support system, which protects the hoses, pumps and lighting cables while supporting the square's flag stones, had to be transported, handled and installed with minimal effort and disruption to traffic. These factors, along with the need for exceptional corrosion-resistant properties made FRP the clear choice.
TECHNICAL DATA
Product: Lightweight Support System
Process: Molded Fiberglass, Pultrusion, Fiberglass Fabrication
Materials:
EXTREN® fiberglass structural shapes
DURAGRATE® fiberglass molded grating
Sizes:
6" x 3/8" EXTREN® 525 wide flange beam
1-1/2" square mesh DURAGRATE®
For: Harrington Industrial Plastics
Monarch Construction
User: City of Cincinnati
The chosen solution by Harrington Industrial Plastics and Monarch Construction incorporated DURAGRATE® 1-1/2" square mesh by 1-1/2" thick molded grating coupled with EXTREN® Series 525 wide flange beams as support. The high resin content (65%) of DURAGRATE® ensures that this support system will provide years of extended maintenance free performance.